February 28, 2011 -
Dave Miller
Baylor spring practice preview
Baylor opens spring practice on Monday, and Art Briles' Bears should be looking forward to putting behind a four-game losing streak that soured the early momentum that the team had built last season, which included a win over Texas.
Let's take a look at some of the key storylines for Baylor entering spring camp.
Baylor (7-6, 4-4 Big 12)
RG III is back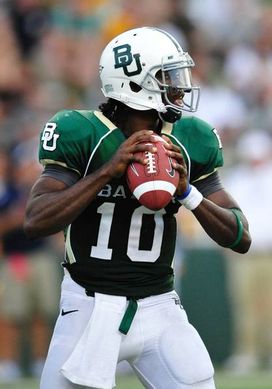 ICONRobert Griffin III continues to improve under center.
Dynamic Robert Griffin III will return under center for the Bears after throwing for 3,501 yards last season following his recovery from a knee injury that forced him to miss most of the 2009 campaign. He improved as a passer and it will be interesting to see if he continues to make strides as the Bears look to increase their aerial attack. He's always been a good decision-maker, so he should remain dangerous operating behind an offensive line that returns four starters. The Bears also have five receivers who had more than 40 catches last season.
Who will replace Finley?
Running back Jay Finley was the perfect complement to Griffin in the backfield. Replacing Finley, who ran for a Bears record 1,218 yards in 2010, will be one of the more intriguing storylines. Terrance Ganaway, Jarred Salubi, Glasco Martin and Isaac Williams will battle for reps. Ganaway is a rising senior who had 46 carries last season, while rising junior Salubi averaged eight yards per carry primarily as a third-down back. He may ultimately end up replacing Finley because the coaching staff likes him a lot. Martin is a converted receiver, and the Bears also signed three running backs from the Class of 2011 — Jermichael Selders, Anthony Webb and B.J. Allen.
New-look defense
Phil Bennett has arrived in Waco to try to turn around a defense that ranked 104th in the nation in total defense, logged just 20 sacks and allowed more than 40 points in six games. Bennett has a track record, putting together solid units at Kansas State, Texas A&M and Pitt. In 2010, Pitt's defense recorded 34 sacks and was ranked eighth in the nation overall. The scheme that Bennett runs should be able to thwart the variety of spread offenses being run in the Big 12, but do the Bears have the personnel for the scheme? Bennett will find out starting Monday, but he did say that his scheme will be built to fit the team's personnel.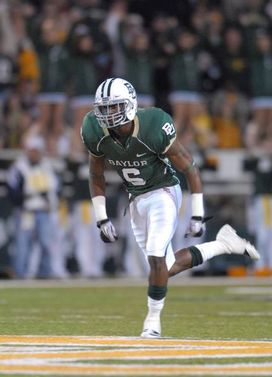 ICONAhmad Dixon will be looked upon to step up in the defensive backfield.
The back seven needs retooling, as two new starters must be found at linebacker, both safety spots have to be filled and an open spot at cornerback remains. Two names to keep an eye on are safety Ahmad Dixon and cornerback Tyler Stephenson. Dixon was a top recruit last season but didn't play much, recording 16 tackles and forcing a fumble in a backup role. Stephenson was impressive as a true freshman and started the last month of the season. These youngsters, along with original Miami signee Prince Kent, may be leaned upon to help a unit that allowed nearly 400 points in 2010.
Making the jump
There's no question that Baylor's 38-14 loss to Illinois in the Texas Bowl was disappointing. But the Bears made progress in Briles' third season in Waco. Last season, Baylor went to the postseason for the first time in 16 seasons and beat Texas for the first time since 1997. Now, can the Bears take the next step and halt losing skids against Texas Tech and Oklahoma? The team returns 14 starters and should have an improved defense under Bennett, so Bears fans should be enthused.
Baylor concludes its 15-practice spring schedule on Saturday, April 2, with a controlled scrimmage.
Email dave.miller@nationalfootballpost.com or follow me on Twitter at Miller_Dave