April 30, 2014 -
Dave Miller
CFP selection committee not too worried about league schedules
With the Bowl Championship Series no longer a part of college football's postseason, details of the new College Football Playoff continued to get worked out on Tuesday in Irving, TX, with CFP executive director Bill Hancock stating that there is no magic number needed for a conference in regards to league games.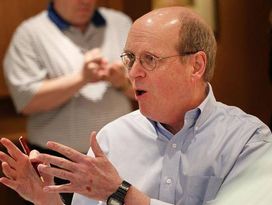 Bill Hancock is overseeing the formation of the new College Football Playoff.
Of course, much has been made in recent days of the SEC's decision to remain at eight conference games moving forward (with the requirement that teams play at least one nonconference game annually against an opponent from a "Big Five" conference).
Hancock stated that it is "inconsequential" whether a conference plays eight or nine games, noting that it is more important to look at each team's schedule as a whole. That stance, however, leads to the question of how the 13-person committee will stack up the teams vying for one of the four playoff berths in 2014 and beyond.
There is a very good possibility that the committee will have to compare and contrast teams that played as many as 10 games versus Big Five opponents against teams that played just nine. And, of course, the Big 12 does not hold a league championship game, which may not help a team's chances of making the CFP.
Schedule strength is just one of the criteria that the committee will use when selecting teams for the new postseason system along with conference titles, common opponents and head-to-head results.
Also on the agenda during these meetings is the management committee deciding when and how often the CFP's Top 25 rankings will be released. According to ESPN's Brett McMurphy, the CFP Top 25 rankings will be released weekly on Tuesdays, and not on Sundays, with the first one of seven slated to be unveiled on October 28. It is still yet to be determined if the final rankings, which will determine which four teams will be in the CFP semifinals, will be released right after the conference championship games late on Saturday night or the following day. Of course, the weekly BCS rankings were always announced on Sunday nights.
Dave Miller, the college football editor and writer for the National Football Post, is on Twitter @Miller_Dave.