January 31, 2013 -
Dave Miller
College football's best recruiting head coaches
There's no question that assistant coaches do a lot of the gruntwork for a college football program.
While head coaches get all of the glory and make a lot of the money that is generated from the huge television contracts that are being brokered these days, their assistants are the ones getting in that last word with a recruit while travelling cross-country all year 'round, including less than a week before National Signing Day.
However, players ultimately come to a school for a variety of reasons. And the head coach is one of the biggest aspects of a recruit's decision-making process.
Below, these are the head coaches who are the best at getting the players they want to come to their program.
1. Nick Saban, Alabama: Is there really any debate here? The Crimson Tide have captured three of the last four BCS national championships, and the program's sustained success is a byproduct of the hard work that Saban and his staff put in on the recruiting trail. And when a program is as successful as Alabama, it gets easier and easier to bring in the best players in the country. Saban can point to two aspects of his program that any player can buy: national titles and player development. At Alabama, every game takes on national significance, and every April the NFL Draft is littered with 'Bama players. Throw in Saban's ability to persuade and his program-building mentality and you have the best recruiting head coach in America.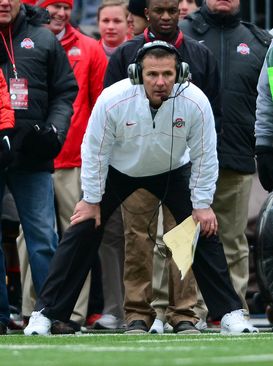 US PRESSWIREUrban Meyer went undefeated in his first season at Ohio State.
2. Urban Meyer, Ohio State: The entire landscape of the Big Ten changed when the Buckeyes brought in Meyer less than one year removed from the Jim Tressel regime. Former Wisconsin head coach Bret Bielema took notice (and it's ironic that Bielema is now in the SEC at Arkansas), and every other coach in the Legends and Leaders division took notice as well. Meyer quickly won at Bowling Green, Utah and Florida. And in 2012, in his first season in Columbus, he went undefeated. That speaks to his coaching. But the fact that he was able to snag SEC-type defensive linemen in last year's recruiting class at OSU speaks to his recruiting prowess. It's no wonder that he went after Oregon commits right after Chip Kelly bolted to the NFL. Meyer with more family/work balance in Columbus? Yeah, right.
3. Dabo Swinney, Clemson: Remember when Swinney was considered overmatched as a major-college head coach? What he has done on the recruiting trail with the Tigers has been fantastic, and it's his enthusiasm for his players and winning that has recruits taking notice. Remember his celebration (insert any big Clemson win here) after his team beat LSU in this past season's Chick-fil-A Bowl? Recruits love those types of moments, as Swinney's enthusiasm is nothing short of contagious. The Tigers head coach has also been able to get top recruits out of rich states such as Florida and Georgia, including electric receiver Sammy Watkins. His tireless work ethic has paid off not only on the recruiting front but as the face of a program.
4. Brian Kelly, Notre Dame: While a lot of current recruits may have been worried about Kelly's flirtation with the NFL's Philadelphia Eagles, Kelly remains committed to the college game. And he'll remain one of the nation's best recruiters as he looks to make Notre Dame an annual title contender. His political background certainly has been a part of his success in all aspects of being a head football coach. Of course, his Irish Catholic background gets played up because he is the face of the Golden Domers. But putting all of that aside, Kelly really began to relate to and connect with the holdovers from the Charlie Weis era while sprinkling in his own players from his first few recruiting classes. And that paid off in a big way in 2012. He has been able to sell top recruits on an ND revival just as he did with current players such as Stephon Tuitt and Gunner Kiel. And all you have to do is look at the current list of pledges for the Class of 2013 to know that Kelly's magic is working in South Bend.
5. Brady Hoke, Michigan: Hoke did a marvelous job of salvaging the Wolverines' recruiting class when he was hired just a few weeks before National Signing Day a few years ago. With Hoke and his staff immediately putting their stamp on the football program and going to the Sugar Bowl in Year One, the former Ball State and San Diego State head coach proved that the administration made the right call by bringing back a "Michigan Man" to Ann Arbor. Although Greg Mattison may arguably be the Big Ten's best recruiter in terms of assistants, Hoke is the face of Michigan football. And players, including recent signee Derrick Green, want to play for him. The Wolverines are primed to bring in their best class since probably 2005 or 1998, when Drew Henson, David Terrell and Justin Fargas came aboard. Much to the chagrin of Michigan State, the Wolverines are getting the state's best talent once again. And Hoke is even able to still get a couple of highly ranked Ohio kids despite Meyer's presence while also sprinkling in nationally ranked recruits. The Michigan-Ohio State rivalry is hot once again.
Others of note: James Franklin, Vanderbilt; Kevin Sumlin, Texas A&M; Will Muschamp, Florida; David Shaw, Stanford; Jimbo Fisher, Florida State; Lane Kiffin, USC