January 21, 2015 -
Dave Miller
Consider Richt a bargain at Georgia
Georgia extended the contract of head coach Mark Richt on Wednesday, inking the former Florida State offensive coordinator to a deal that will keep him in Athens through the 2019 college football season.
The two-year extension also includes a raise, as Richt will now make $4 million per year, which is up from the $3.2 million per season mark under the old deal.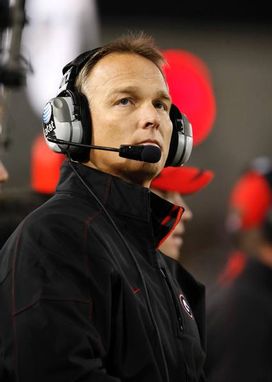 ICONMark Richt has compiled a 136-48 overall mark since arriving in Athens.
"I appreciate the confidence that [athletic director] Greg McGarity has in the direction of our football program and how we represent the University of Georgia," Richt said in a statement. "Our staff has an outstanding work ethic and we are committed to the development of our student-athletes on and off the field."
While a certain segment of the Bulldogs' fanbase would love to see the football program get new leadership, Richt is deserving of his new deal, which is a bargain when you look at the head-coaching salaries of some of his peers in the tough SEC.
A list of SEC coaching salaries that was published by Saturday Down South last December shows Texas A&M's Kevin Sumlin making roughly $5 million per year, Hugh Freeze of Ole Miss making around $4 million as well as Butch Jones of Tennessee and Mark Stoops of Kentucky earning about $3.6 million per season. Given that he has compiled a 136-48 overall mark (78-34 in the SEC) since his 2001 debut campaign, Richt is deserving of the extension and pay bump.
The 54-year-old veteran has led the 'Dawgs to five SEC East titles and almost knocked off Alabama in the league's title game a few years ago, which would have propelled them into the BCS national championship game against Notre Dame.
While there's often a "close but no cigar" feeling around the Georgia program as well as a bad loss or two that has prevented his tenure from being extraordinary, Richt has been able to at least keep Georgia in the national conversation on a consistent basis because of very good recruiting, especially in recent years.
Simply put, Richt brings stability. And he deserves more years and cash in his contract.
Just don't expect the Kirby Smart rumors to go anywhere. Because they're not.
Dave Miller, the college football editor for the National Football Post, is on Twitter @Miller_Dave.