June 30, 2011 -
Dave Miller
Erickson running out of chances at Arizona State
When Kerry Taylor took to Twitter and bashed Arizona State head coach Dennis Erickson recently, the former Sun Devils receiver echoed the sentiments of some fans in Tempe who believe the team has underachieved in recent seasons.
Shortly after conducting an interview with local TV station KTVK, Taylor posted the following comments on his Twitter page.
"Just did an interview about the problems of ASU football and why Dennis Erickson is NOT the right man for the job. I want ASU to win Pac12 Championships, all of us ASU fans do. But in order for that to happen we need a new Head Coach. That's all I'm saying."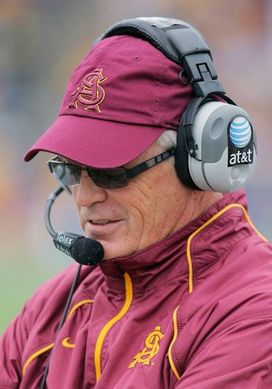 ICONDennis Erickson is just 15-21 in his last three seasons in Tempe.
While Erickson has not responded to Taylor's comments — and reps at the station have said the interview with Taylor will not air until the head coach has an opportunity to respond — the veteran leader should only have one thing on his mind at this point: winning. And that's something that has not happened on a consistent enough basis during his tenure in Tempe.
Since leading the Sun Devils to a 10-3 mark and a share of the Pac-10 regular-season title in his first season at the school, Erickson has produced just a 15-21 record while failing to reach the postseason the last three seasons. Still, the Sun Devils are a popular choice to represent the Pac-12 South division in the league's inaugural conference championship game in December, especially with USC being ineligible to participate because of NCAA sanctions.
But should we buy ASU as a Pac-12 contender?
Entering his fifth season, Erickson hasn't elevated this Sun Devils program since taking over for Dirk Koetter and earning Pac-10 coach of the year honors in his debut 2007 campaign. The promising start to his tenure raised expectations for the program, especially considering that USC was the lone dominant team in the conference at the time. Despite having to look up at Pete Carroll and the Trojans sitting atop of the standings, the Pac-10 was a fluid league — and the Sun Devils seemed poised to seize the moment under Erickson.
Except, that hasn't happened. And it hasn't helped on the recruiting trail.
While the momentum of that first season netted a recruiting class the following February that included seven four-star recruits, according to Scout's rankings, many of those prospects already had narrowed their lists of schools and taken official visits. Sure, it helps to have a successful campaign the previous fall. But the real gains for Erickson should have been reflected in the 2009 recruiting class.
However, his 22-player 2009 class wasn't very stellar. While five-star linebacker Vontaze Burfict was the obvious gem and defensive tackle Corey Adams was a must-have local product, the team didn't land any four-star talent.
In 2010, four four-star recruits were brought in and this past cycle netted just one in quarterback Michael Eubank. While Erickson has been busy getting 11 commits for 2012, six three-star recruits lead the way as of now with no four-star talent. Could second-year assistant and new recruiting coordinator Steve Broussard, who took over recruiting duties after defensive line coach Grady Stretz left for the NFL in February, help the cause?
With the Sun Devils being outrecruited by some of their middle-of-the-road conference brethren and with the league now expanded to 12 teams, can Erickson survive continued mediocrity in Tempe?
While the depth of high school football talent in Arizona isn't great, putting together a string of winning seasons will help the Sun Devils get more kids from California — and help recruits overlook average athletic facilities on campus. As fans of the college game know, recruiting is the backbone of building a successful program. And while perhaps too much is made of the grading systems and scouting systems associated with recruiting — not every five-star player pans out while not every one-star player ends up standing on the sideline — ultimately a coaching staff needs to develop good players in order to win. And not enough winning has occurred the last three years in Tempe.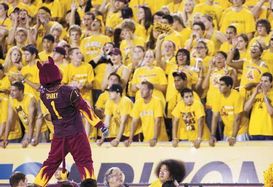 Will Arizona State fans get to cheer a winning squad this fall?
Certainly, Erickson won't be able to survive another bowl-less season. Based on the team's ability to play tough in close losses to quality opponents last season, including nailbiters to Wisconsin and Stanford, one would think that ASU is poised to at least earn a minor bowl bid. But how bright is the future under Erickson's leadership?
The team returns 19 starters, including stud middle linebacker Burfict and 2010 defensive freshman of the year Junior Onyeali at defensive end. Cameron Marshall has a chance to develop into an all-league performer at running back behind a veteran offensive line, and quarterback Brock Osweiler stepped in last year and helped lead back-to-back wins over UCLA and Arizona when Steven Threet went down to injury. Overall, the offense had better rhythm under new coordinator Noel Mazzone, who replaced Rich Olson and instituted the spread. However, can the unit — specifically Osweiler — be consistent on a week to week basis?
Erickson has not shied away from the expectations placed on his team. After all, he knows as well as anyone that he has to win to remain in Tempe. Will a veteran-laden team finally put it all together and help realize the lofty expectations? Or will the Sun Devils remain stuck in neutral — content to be a middling bunch in a conference filled with programs looking to take the next step?
Email dave.miller@nationalfootballpost.com or follow me on Twitter at Miller_Dave