December 31, 2013 -
Dave Miller
Five players to watch on New Year's Eve
Subscribe to the "Against the Grain with Dave Miller" podcast in iTunes
Boston College RB Andre Williams & Arizona RB Ka'Deem Carey: I grouped these two prolific tailbacks together because they will be on opposing sidelines on Tuesday for the AdvoCare V100 Bowl in Shreveport. It's not too often that two of the nation's elite running backs are involved in a non-BCS bowl game, but that's exactly what will take place when Boston College and Arizona square off. Williams, of course, was a Heisman Trophy finalist and the winner of the Doak Walker Award. He has 2,102 rushing yards, and he'll have his chance to show NFL scouts and college football fans that the nation's leading rusher has indeed been worthy of his late-season high praise. Meanwhile, Carey may be playing his last game for the Wildcats as he tries to notch his ridiculous 16th consecutive 100-yard game. He should have received more Heisman love, but playing on the West Coast probably affected his candidacy unfortunately. He'll want to end the season and likely his college career with a big effort.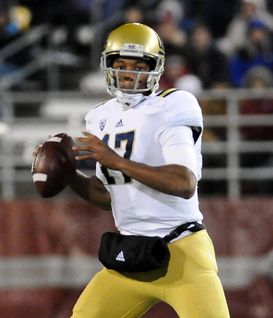 US PRESSWIREBrett Hundley faces a tough Virginia Tech defense in the Sun Bowl.
UCLA QB Brett Hundley: Will the dual-threat signal-caller return to Westwood next year? Bruins head coach Jim L. Mora expects him to return to school in 2014, but the redshirt sophomore is one of the more gifted quarterbacks in the nation and could elect to test the NFL waters early. This season he has thrown for 2,845 yards and 22 touchdowns against nine interceptions, and he has rushed for 587 yards and nine more scores. There is no doubt that he needs to become a more accurate passer, especially on his longer throws. And there is improvement that is needed with his footwork when the pocket collapses, but he is highly valued by some NFL scouts. Still, another season of polishing would enhance his stock even more for 2015. He sometimes likes to squeeze the football into tight spaces, and there's no question that Bud Foster's Hokies defense is going to be a tough matchup in the Sun Bowl in El Paso.
UCLA LB/RB Myles Jack: Not many players received as much hype in the month of November for his play than Jack, and it was well-deserved. The true freshman, who was already excelling at linebacker, started to get carries at running back because of the Bruins' health woes at the position. And the star defender excelled on the other side of the ball, recording 120 yards at Arizona on November 9 and notching a four-touchdown game against Washington on November 15. But UCLA is now healthy at running back, so it'll be interesting to see how Mora uses Jack on offense. I would be stunned to not see him used on offense against the Hokies, because he's too special of a talent. After all, he was both the Pac-12 freshman offensive and defensive player of year.
Rice's offensive backfield: In the Liberty Bowl, Mississippi State will face a tough test against a Rice team that won the Conference USA championship under head coach David Bailiff. The Owls are in the postseason in back-to-back years for the first time since 1960-61, and a lot of the success has to do with a dominant ground attack. Senior Charles Ross, who led C-USA in rushing, leads the way. He has a five-touchdown effort on his 2013 resume, but he's not the only productive Owl. Four other Rice running backs had at least 60 carries this fall, and quarterback Taylor McHargue is a running threat as well. But if you're an NFL fan, Ross is the one to keep an eye on because he may be able to stick on a pro roster next season.
Texas A&M QB Johnny Manziel: The Chick-fil-A Bowl against Duke will be the final game for Johnny Football with the Aggies. The 2012 Heisman Trophy winner finished fifth in this year's race following a redshirt sophomore season that featured rough outings against LSU and Missouri. However, he still managed to have a phenomenal early season performance against defending BCS national champion Alabama and finished the year with 4,418 yards of total offense and 41 touchdowns. He remains must-see TV, and this will be our final chance to enjoy his antics on the collegiate level.
Dave Miller, the college football editor and writer for the National Football Post, is on Twitter @Miller_Dave.