December 31, 2012 -
Dave Miller
For USC, the future is now with Wittek
With senior Matt Barkley not being medically cleared to play after spraining his shoulder against UCLA, thus officially ending his collegiate career, Max Wittek will get his second consecutive start at quarterback for USC when it plays Georgia Tech in the Sun Bowl on New Year's Eve day.
For the Trojans, who are coming off of a disappointing regular season, it's time for head coach Lane Kiffin and Co. to look toward the future. And that future centers on Wittek, who made his first career start in the regular-season finale at home against Notre Dame.
The 6-4, 235-pound signal-caller from Newport Beach, CA, stepped into a difficult situation against the nation's No. 1 team in the regular-season finale, and he performed well in front of a national audience. The redshirt freshman went 14-of-23 passing for 186 yards with one touchdown and two interceptions against the dominant Fighting Irish defense, at times flashing some of the physical gifts that made him one of the top quarterbacks in the Class of 2011. While he did make some of the typical mistakes of a player making his first career start under center, Wittek displayed the arm strength that some have said is even more impressive than what Carson Palmer displayed when he played college ball in Los Angeles.
Check out this 53-yard connection by Wittek to receiver Marquis Lee in the showdown with the Irish.
With the Trojans looking to end the 2012 season on a high note and look toward a brighter 2013, the one benefit of having Barkley sidelined has been more reps for Wittek in practice and an additional full game of playing experience. With star receiver Lee returning in 2013, Wittek will have a chance to continue to develop rapport with one of the nation's best playmakers and a potential 2013 Heisman Trophy candidate who had five catches for 75 yards in Wittek's first start. Lee recorded 1,608 receiving yards on the season.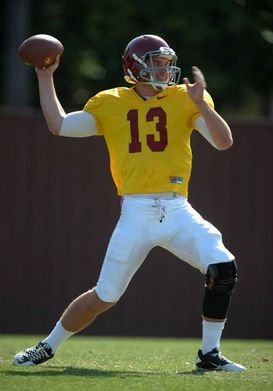 US PRESSWIREMax Wittek will start the Sun Bowl in place of Matt Barkley.
But the game against the Yellow Jackets also gives Wittek a chance to continue the rapport he has had with Robert Woods as well. Woods will soon announce his intentions of staying for another year at 'SC or leaving for the NFL Draft. Perhaps his relationship with Wittek could play a role in his decision. At least that's what Trojan fans are hoping.
Woods, who has 813 receiving yards this year, had seven receptions for 92 yards and a touchdown against Notre Dame and was a frequent target of the redshirt freshman QB. So there's no question that Kiffin would love to see Wittek continue to look for Woods not only against the Yellow Jackets, but throughout the 2013 campaign as well.
Woods will certainly make the decision that is best for him and his family, but this is a big opportunity for Wittek to continue to develop as a passer and become more in sync with his dynamic receivers.
Of course, the Trojans won't return to the Pac-12 or national elite until they improve dramatically on defense, and that process has already begun with coordinator Monte Kiffin announcing that he won't return in 2013. For whatever reason, 'SC never quite grasped Kiffin's Cover 2 concepts. It was a soft unit that underachieved despite having NFL talent.
The Trojans could also benefit from Lane Kiffin giving up his play-calling duties and bringing in a coordinator to focus on the offense. Too many instances throughout his tenure in Los Angeles, Kiffin has made head-scratching coaching decisions, specifically when his team had possession of the football. Perhaps being more hands-on with his entire team and not just with his offensive personnel would help the overall product on the field.
But one thing is certain: the future of USC football begins in El Paso against Georgia Tech. And much of the team's future success rests on the right arm of its young signal-caller.