July 31, 2012 -
Dave Miller
Notre Dame suspends Rees and Calabrese for opener
We now officially know that Tommy Rees will not be lining up under center for Notre Dame's 2012 season opener.
Fighting Irish head coach Brian Kelly announced Tuesday afternoon that the team has suspended the junior quarterback as well as senior linebacker Carlos Calabrese for the opening contest against Navy in Dublin on September 1. Neither player will travel with the team overseas either.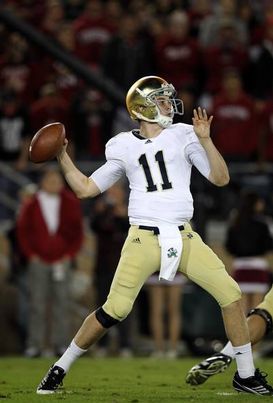 Tommy Rees has been suspended for Notre Dame's opener against Navy.
Junior Andrew Hendrix, sophomore Everett Golson or freshman Gunner Kiel will make his first career start at quarterback against the Midshipmen.
Rees and Calabrese were arrested May 3 after a party near campus. Rees was originally charged with two counts of resisting arrest and one each of battery and minor consumption of alcohol. In July, he pleaded guilty to one count of resisting arrest and the minor consumption charge, and the other two charges were dropped. Calabrese was charged with misdemeanor intimidation, and he has a court date scheduled for Aug. 10. Meanwhile, Rees is scheduled for an Aug. 20 hearing where he is to discuss possibly paying restitution.
"Our players understand that it's a privilege to be associated with the University of Notre Dame and its football program, but with that comes great responsibility," Kelly said. "Carlo and Tommy put themselves in a situation that when given a choice between two distinct paths, they responded with a set of poor decisions.
"This conduct was inconsistent with my expectations for our football program — especially our veteran, team leaders. Carlo and Tommy will not travel with the team to Ireland and can attempt to climb the depth chart following the conclusion of their respective suspensions."
Of course, star receiver Michael Floyd did not miss any time for the Irish last season despite being arrested on a DUI charge. It would seem that star receivers get treated differently, which isn't surprising in major college football.
Email dave.miller@nationalfootballpost.com or follow me on Twitter at Miller_Dave