February 28, 2011 -
Dave Miller
Radio host says a tape exists that implicates Cam Newton
Former Auburn quarterback Cam Newton most certainly was asked nearly every question in the book, particularly pertaining to the pay-for-play scheme that centered around his father, while visiting with representatives from NFL teams during the NFL Scouting Combine in Indianapolis.
More allegations, however, came out late last week that may have gone under the radar. Although, based on what we know thus far, the validity of the story is certainly in question.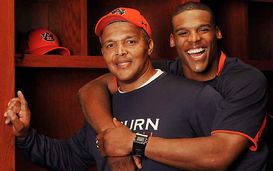 ICONThe NCAA ruled that Cam Newton did nothing wrong in his father's pay-for-play scheme.
The host of a Huntsville, Ala., sports talk radio show says he has heard audio tapes, allegedly in the possession of former Mississippi State players John Bond and Bill Bell, that implicate the dual-threat signal-caller in his father, Cecil's, pay-for-play scheme that was investigated by the NCAA.
Scott Moore, an Alabama fan and a college football speaker, said Friday during a radio interview with WNSP in Mobile, Ala., that he heard tapes of Cecil Newton selling his son's services to Mississippi State while Cam was in the room. Moore also claimed that Cecil Newton said he had received an offer from Tennessee for $200,000, but that he'd give Mississippi State a $20,000 discount.
According to Barrett Sallee of CollegeFootballNews.com, however, Moore contradicted himself regarding the amount supposedly offered by Tennessee. In an interview on Mississippi-based 1st Call with Matt Wyatt one day before the interview in Mobile, Moore stated that Tennessee offered $150,000 for Newton's services and not $200,000.
Of course, Auburn and Tennessee are the Crimson Tide's two biggest rivals and both are implicated in Moore's claim.
If it's proven that Cam Newton knew about being shopped around, he would be retroactively ruled ineligible for the 2010 season and all hell would break loose. And you'd have millions of college football fans saying, "I told you so." But why would either Bond or Bell sit on the tape(s) without turning the evidence over to the NCAA? The evidence can't really exist, right? Or, perhaps the audio does exist but it was deemed inconclusive, whether by the NCAA, Bond or Bell.
If there is any truth to Moore's assertion, it would be a real ugly offseason in college football. After all, as Moore stated on the show Friday, the tapes "have a lot of value."
If there are indeed actual tapes.
Moore proclaimed the NCAA heard at least some of the tapes last fall before Auburn declared Newton ineligible and the NCAA quickly reinstated him without conditions. If the NCAA found no wrongdoing, then what's the problem? Did the governing body hear all of the tapes?
An email sent out to Moore has not yet been returned.
UPDATE: On Tuesday afternoon, Moore made an appearance on 104.5 the Zone in Nashville, Tenn. and reiterated his claims that both Tennessee and Auburn offered money to Cecil Newton in an attempt to lure his son to their respective football programs. Moore claimed that the audio tapes he heard has Cecil Newton revealing that the Volunteers offered him $150,000 (with the price later going up to $200,000) and the Tigers $180,000. Moore also repeated his claim that Cam Newton was around during at least one of the discussions. "I do believe that Cam Newton knew. I do believe that on these tapes when we play them that you'll be able to tell Cam Newton knew what was going on. That's all I'll say about that at this time," Moore said during the radio spot.
Email dave.miller@nationalfootballpost.com or follow me on Twitter at Miller_Dave