December 31, 2012 -
Dave Miller
Sun Bowl preview: USC vs. Georgia Tech
The 2012-13 college football postseason continues Monday as USC and Georgia Tech collide in the Sun Bowl.
Earlier today at the NFP I wrote about the importance of this matchup for Lane Kiffin's squad, particularly redshirt freshman quarterback Max Wittek. But let's take a look at some of the other important aspects of this matchup between the Trojans and the Yellow Jackets.
USC (7-5) vs. Georgia Tech (6-7) at 2 p.m. ET on CBS
El Paso, Texas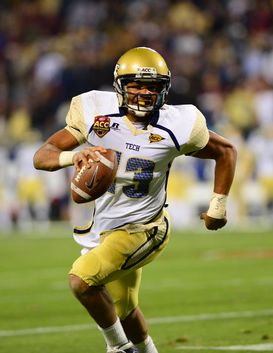 US PRESSWIRETevin Washington has 19 rushing scores this season.
• Defending the triple-option: The struggles of USC's defense have been well-documented under coordinator Monte Kiffin, who won't return to the team in 2013. Because of their underachieving ways, one of the most fascinating aspects of this game is how the Trojans will defend Georgia Tech's flexbone triple-option offense. 'SC has struggled against various option offenses this fall, but Tech's is a different animal. The unit was No. 4 in the nation at over 310 rushing yards per game, led by senior quarterback Tevin Washington, who has 19 touchdowns on the ground. A lot of pressure will fall on Trojans senior safety T.J. McDonald in run support. The other factor is motivation. Will Lane Kiffin have his team eager to finish the disappointing 2012 campaign on a high note?
• The dynamic Lee: Trojans receiver Marqise Lee caught a nation-leading 112 passes and was among the national leaders in all-purpose yardage this fall. He is dangerous every time he touches the football, racking up 1,680 yards and 14 TDs as a receiver as well as 802 yards and a score on kick returns. So any time you have a chance to catch him in action, it's a treat. His 20-touch, 408-yards-from-scrimmage effort against Oregon and his 20-touch, 469-yards-from-scrimmage game against Arizona this year are still being talked about in college football circles. The Biletnikoff Award winner and Pac-12 offensive player of the year is nursing an undisclosed leg injury but is expected to play in the game.
• The intangibles: Earlier I mentioned Washington as being a threat on the ground for the Jackets, but A-back Orwin Smith is another dynamic player to watch. He will return after missing the last two games with an ankle injury, and he is averaging over nine yards per carry this season. So there's no question that the Jackets will have a chance to move the ball on 'SC. The problem is that the Trojans should do the same and then some against a porous Yellow Jackets defense. With Lee and Robert Woods at receiver, along with Silas Redd and Curtis McNeal in the backfield, Wittek is surrounded by top playmakers. And his big arm gives 'SC an explosive vertical threat.