January 29, 2015 -
Dave Miller
Texas looks to close strong
If Texas plans on returning to the top of the Big 12 mountain and once again become a major player on the national stage, head coach Charlie Strong understands that his program must at least share headlines once again on National Signing Day.
It is a foregone conclusion that Alabama will bring in the nation's top class once again when signing day arrives in less than a week. Meanwhile, Steve Sarkisian has USC poised to land a Top 5 class, and Jimbo Fisher continues to bring in elite talent to Florida State. Butch Jones is connecting with high school recruits across the country as he improves Tennessee, while programs such as Auburn, Georgia and Clemson will all be in the Top 10 mix next week.
But what about the Longhorns?
Strong and his staff are in a different position than the previous regime, as Mack Brown usually had many of his commitments locked up well in advance of signing day. A lot of the time, future 'Horn players committed to the school before their senior seasons. So the program didn't have to go the extra mile down the stretch. Perhaps a sense of complacency set in on the recruiting trail, which may have permeated throughout the program.
But as the 'Horns look to put the finishing touches on their first full recruiting cycle under Strong, there is a lot of intrigue surrounding the program. And that drama starts with one player in particular.
If you have yet to hear the name Kyler Murray, that will surely change. Arguably the nation's top dual-threat quarterback, the Allen, TX, product has been committed to Texas A&M, where his father played quarterback, since last spring. But the Class of 2015 star actually had an unofficial visit last week in Austin, and some recruiting analysts believe that the 'Horns have a legit chance to land Murray, who would be battling the emerging Kyle Allen at QB if he decided to head to College Station.
But we all know about the struggles the 'Horns have dealt with at the QB position in recent years.
Making it even more imperative that Texas lands a talented signal-caller by next Wednesday is the fact that new Michigan head coach Jim Harbaugh was able to sway then-Texas pledge Zach Gentry last week. The New Mexico signal-caller had been committed to Texas since last May. It seems absurd that a program with such history as Texas would have so many problems under center, but that has been the case in the latter years of the Brown era and the start of the Strong regime.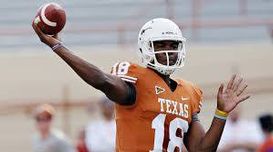 Tyrone Swoopes is the latest QB to have an up-and-down career in Austin.
Texas has not been able to stabilize the quarterback position since Colt McCoy was in Austin, which is incredible considering the quality of arms coming out of the Lone Star State each year. But, as is often discussed by Texas fans as well as the media, the previous staff missed on a lot of quarterbacks that went elsewhere, including standouts such as Robert Griffin III and Johnny Manziel. And while he was viewed as a possible answer at the position when he arrived in Austin, Tyrone Swoopes has a lot of work to do if he is to be a capable steady QB in 2015. The major issue for Texas is that he and redshirt freshman Jerrod Heard are the only scholarship QBs that will be available in the fall, making getting a standout in this class imperative.
Perhaps Murray ultimately stays with A&M. While that would be a tough pill to swallow, Texas is also after Florida State commit Kai Locksley, who went on an official visit to Austin last weekend. The Baltimore native is one of the better signal-callers in the country even though he likely wouldn't be ready to step into the fold and start immediately as Murray could probably do. Perhaps, if all else fails, the 'Horns could look at a stop-gap measure such as bringing in a graduate transfer this offseason to fill the quarterback void. However, that's a discussion for another day.
As much as the position is scrutinized, quarterback isn't the only area of focus for Strong and his staff heading into next week.
Texas currently sits at No. 12 nationally in the 247Sports Composite team rankings for 2015, which is solid. But at Texas, it isn't good enough. Nor should it be.
Strong's rep as a great recruiter will be put to the test a little bit in the next six days, but there is a chance that the 'Horns can go out with a bang. They remain in the mix for a few high-star prospects, and adding one or two to current pledge Malik Jefferson, the nation's top linebacker who is already enrolled, would be huge. In-state players such as receiver DaMarkus Lodge, defensive tackle Daylon Mack and running back Soso Jamabo could pledge to Austin and give Strong a much-needed class filled with star power. And it would potentially set the stage for the 2016 haul as well.
Texas went 6-7 in Strong's first campaign, which certainly didn't sit well with anybody associated with the program. Next week could be a huge first step, though, in erasing those painful memories and setting the stage for brighter days ahead.
Dave Miller, the college football editor for the National Football Post, is on Twitter @Miller_Dave.