February 10, 2015 -
Dave Miller
The most interesting players to watch at the NFL Combine
Follow @Miller_Dave
All eyes will be on the NFL Scouting Combine when the showcase event takes over Indianapolis from February 17-23. Some of the best talent that will be available for the 2015 NFL Draft will be in attendance at Lucas Oil Stadium. While there are a plethora of intriguing storylines that are sure to play out in Indy, let's take a look at the players I am most interested in seeing as they try to impress league scouts, general managers, coaches and executives in interviews as well as in drills such as the 40-yard dash, three-cone drill and the bench press. Here are five players in particular that I will have my eyes on:
Missouri WR Dorial Green-Beckham:
One observer who has witnessed Green-Beckham work out in the past month told me that the big wide receiver looks "phenomenal," but he will be scrutinized in every interview with NFL personnel because of his multiple off-the-field violations that led to his transfer from Missouri to Oklahoma, where he did not play a single down after being forced to sit out a year (he was suspended twice and arrested twice for marijuana-related incidents at Missouri before being kicked off the team after allegedly being involved in a burglary). Many recruiting analysts, college football observers and draft experts over the last few years have said that he is the closest thing to Randy Moss and Calvin Johnson that the NFL will see, citing his 6-6, 225-pound frame as well as his speed and good hands. He has the build to be a potential game-changer at the next level if he stays out of trouble, and he certainly must be anxious to show off his talent in Indy. Can he be a first-round selection after not seeing game action since December 7, 2013?
Washington CB Marcus Peters:
The talented defensive back was suspended for one game this past season by Huskies head coach Chris Petersen for a sideline tantrum after a personal foul penalty before ultimately being dismissed from the program after repeated run-ins with the coaching staff. Hence, the interview process in Indy will be huge for Peters. He has good size (6-0, 198) and ball skills, but will he take to coaching at the next level? That is a huge concern right now. He's a confident kid that seems to lack maturity. He'll need to answer a lot of questions leading up to the draft.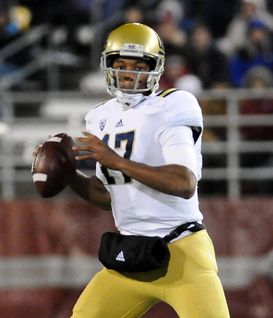 US PRESSWIREWill Brett Hundley be the third QB selected this spring?
UCLA QB Brett Hundley:
If Oregon's Marcus Mariota and Florida State's Jameis Winston skip working out at the Combine, there is no doubt that Hundley will be the most visible signal-caller competing in drills as he looks to impress NFL personnel and gain a little momentum heading into his pro day. We have seen Hundley display a strong arm and good athleticism throughout his collegiate career, and we know that he has a nice frame at 6-3 and 226 pounds. But can he be a consistent, accurate passer at the next level? And can he improve his pocket presence? He can't really answer those questions in Indy, but looking the part and being solid in drills will at least keep him on track to be the third signal-caller selected.
Central Michigan WR Titus Davis:
When you think of Chippewa receivers, the Pittsburgh Steelers' Antonio Brown probably comes to mind. But Davis is no slouch, as he is CMU's career leader in receiving yards at 3,705 and has a school-record 37 touchdown receptions. The 6-2, 190-pounder had at least eight scoring receptions in each of his four seasons at CMU, and he has a chance to impress the league if he can do well in drills, particularly with a good time in the 40.
Florida DT Leon Orr:
There is no doubting the talent possessed by the former Gator. He has very good athleticism for his size but never became a dominant, consistent performer in Gainesville. The 6-5, 302-pounder's playing time fell off his senior year, so he quit the program. That is a huge red flag for NFL types. Can he have a strong physical portion of the Combine followed by good interviews?
Others to watch:
— Alabama RB T.J. Yeldon
has a chance to make some money if he can log a nice 40 time. He has very good size for the position and has good quickness, but he is not a blazer. There are a lot of good backs in this draft class, but the former Crimson Tide runner has a chance to move up the board with a nice showing in Indy.
— USC WR Nelson Agholor
may only develop into a slot option, but he can be an immediate factor on special teams in the return game. Don't dismiss him because of a lack of blazing speed. He can be a dangerous punt returner for a team.
— Miami (FL) WR Phillip Dorsett
may blow teams away with his 40 time and build off of his strong showing in Mobile at the Senior Bowl. He'll provide instant value in the return game like Agholor.
— Washington OLB Hau'oli Kikaha
will need to show league personnel that his history of knee problems should not be a concern. He is a strong pass rusher, but some scouts still question his athleticism.
— Miami (FL) ILB Denzel Perryman
was always so fun to watch throughout his college career, but he checked in at just over 5-10 at the Senior Bowl. He needs to be in great shape in Indy so he can test well and improve his stock.
Note:
Find below the on-field workout schedule Feb. 20: Specialists, offensive linemen and tight ends Feb. 21: Quarterbacks, running backs and receivers Feb. 22: Defensive linemen and linebackers Feb. 23: Defensive backs
Dave Miller, the college football editor for the National Football Post, is on Twitter @Miller_Dave.