January 31, 2014 -
Dave Miller
UPDATED—Top 25 2014 uncommitted prospects
Subscribe to the "Against the Grain with Dave Miller" podcast in iTunes
With National Signing Day just days away, it's time to take a final look at the National Football Post's rankings of the Top 25 senior prep players in the country who have yet to commit to a program.
1. CB Adoree' Jackson, Junipero Serra High School (Gardena, CA)
The 5-10, 182-pounder, who has dreams of competing in the 2016 Summer Olympics as a track and field star, has USC, UCLA, Florida and LSU in the mix for his verbal pledge. Think De'Anthony Thomas mixed with the skills to be a shutdown corner.
2. OT Damian Prince, Bishop McNamara High School (Forestville, MD)
The 6-5, 286-pounder has good athleticism and flexibility. He's a very good run blocker and pass protector whose top three are Florida, Maryland and South Carolina. The Gators have a commitment from his close friend Jalen Tabor, but Penn State, Auburn and LSU are making late pushes. I think UF has the edge.
3. WR Malachi Dupre, John Curtis Christian High School (River Ridge, LA)
The 6-3, 187-pounder, who has won state titles in the long jump, high jump and triple jump, has thoroughly impressed on the field despite playing in a run-oriented offense. LSU, Alabama, Florida State, UCLA and Ole Miss remain in the running for his pledge.
4. DE Lorenzo Carter, Norcross High School (Norcross, GA)
The 6-5, 234-pounder has a great frame to add weight, and he also has very good instincts. The top player in the Peach Tree state has Georgia and Florida as his co-favorites, with Florida State and LSU on the outside looking in. Carter is expected to be in Athens this weekend.
5. ATH JuJu Smith, Long Beach Poly High School (Long Beach, CA)
The 6-1, 206-pound two-way standout is one of Southern California's best in the 2014 class. Many recruiting analysts believe that USC is the prohibitive favorite, but UCLA, Notre Dame and Oregon are in the mix as well. He is considered a safety prospect at the next level but could also play wide receiver.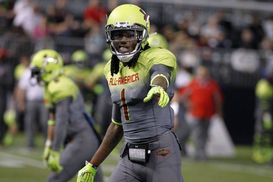 WR Ermon Lane is scheduled to visit FSU this weekend.
6. WR Ermon Lane, Homestead Senior High School (Homestead, FL)
The 6-2, 196-pounder, who is considered the top receiver in the Sunshine State, is a good route runner with very good leaping ability. He recently decommitted from Florida, and some analysts believe that he could be headed to Florida State to play with good friend Dalvin Cook, the Miami Central running back who flipped his commitment from Florida to Florida State. Lane is slated to visit the 'Noles this weekend.
7. OLB Rashaan Evans, Auburn High School (Auburn, AL)
The 6-3, 217-pounder, who was one of the top performers at the Under Armour All-America Game, will decide between Auburn and Alabama. Evans recorded more than 40 tackles for loss and 18 sacks as a senior. The Tigers were considered the favorite, but never count out the Crimson Tide's Nick Saban.
8. DT Malik McDowell, Southfield High School (Southfield, MI)
The 6-6, 260-pounder, who transferred from Loyola High School to Southfield High before his senior year, was thought to be closing in on Michigan State. But Florida State remains in play along with Michigan and Ohio State. McDowell is slated to be in Columbus this weekend. Will that final impression help the Buckeyes?
9. DE Solomon Thomas, Coppell High School (Coppell, TX)
The 6-3, 256-pounder, who is one of the best players in the Lone Star State, has Arkansas, UCLA and Stanford in his top three. His older sister is a student at Arkansas.
10. OG Braden Smith, Olathe South High School (Olathe, KS)
The 6-6, 285-pounder is one of the strongest players in the 2014 class, as he's completed three reps at 515 pounds on the bench press. TCU, Texas A&M and Auburn remain in the mix for his pledge.
11. OG Damien Mama, Saint John Bosco High School (Bellflower, CA)
The 6-4, 370-pounder, who is ranked as one of the top offensive guards in the country, is not expected to be available in 2015 and 2016 because of a Mormon mission. USC may hold an advantage over Alabama and BYU because the Trojans have strong roots in the Polynesian community.
12. ATH Michiah Quick, Central East High School (Fresno, CA)
The 6-foot, 170-pounder is considered by some programs as a better fit at cornerback, but he could emerge as a good receiver at the next level. Notre Dame, Oklahoma and UCLA are in the mix for his pledge.
13. DT Travonte Valentine, Champagnat Catholic High School (Hialeah, FL)
The 6-3, 305-pound athletic defensive lineman is down to LSU and Miami (FL), though he decommitted from the Hurricanes earlier this month. His recruitment has included commitments to Louisville and Florida before giving a verbal to the Hurricanes. He is expected to be in Coral Gables this weekend along with fellow DT Lamont Gaillard and dual-threat quarterback Treon Harris.
14. S Steven Parker II, Jenks High School (Jenks, OK)
A lot of recruiting analysts believe that the 6-2, 175-pounder will choose Oklahoma, although he also has offers from major programs such as Texas A&M, Auburn, Alabama and Ohio State. Keep an eye on Auburn.
15. ILB Kenny Young, John Curtis Christian High School (River Ridge, LA)
The 6-1, 210-pounder has Oklahoma State as one of his five finalists. LSU, Miami (FL), Texas A&M and UCLA are also in the mix. In the U.S. Army All-American Game, he finished with six tackles and a sack.
16. DT Derrick Nnadi, Ocean Lakes High School (Virginia Beach, VA)
The 6-1, 299-pounder recently made trips to Ohio State, Florida State and Penn State. Former Nittany Lions assistant Larry Johnson was his main recruiter at State College, so keep an eye on the Buckeyes with Johnson now in Columbus. However, Virginia Tech has been considered the leader as the Hokies try to keep him home.
17. CB Wesley Green, Martin Luther King High School (Lithonia, GA)
The 5-11, 173-pounder recently said that South Carolina is his new leader after the coaching changes at Georgia. Auburn, Clemson and Ohio State also have offered, but it appears to be a battle between the Bulldogs and the Gamecocks. He is expected to be in Athens this weekend.
18. S Budda Baker, Bellevue High School (Bellevue, WA)
The 5-9, 174-pounder is one of the nation's best playmakers who has top Pac-12 offers. Washington has a chance to keep him in-state, but keep an eye on UCLA.
19. RB D'Ernest Johnson, Immokalee High School (Immokalee, FL)
The 5-11, 182-pound former North Carolina commit could be a great fit at South Florida.
20. ATH Chris Lammons, Plantation High School (Fort Lauderdale, FL)
The 5-10, 171-pounder likely slots in best at cornerback. He has received offers from major schools such as South Carolina, Wisconsin, Florida, Alabama and Ohio State. Keep an eye on the Gamecocks.
21. RB Donte Thomas-Williams, Hillside High School (Durham, NC )
The 6-foot, 217-pounder has offers from top programs such as Florida State and UCLA, but keep an eye on NC State and West Virginia. Mountaineers head coach Dana Holgorsen really wants Thomas-Williams in his program's class.
22. OT Roderick Johnson, Hazelwood Central High School (Florissant, MO)
The 6-6, 320-pounder has offers from major schools such as Ohio State, Michigan, Florida State and Alabama. The Seminoles have had the lead despite his recent visit to Columbus.
23. DE Andrew Williams, Eagles Landing Christian Academy (McDonough, GA)
The 6-4, 251-pounder needs to work on his consistency, but he has the potential to blossom even further as he continues to add weight. He is expected to choose between Auburn and Clemson, but Georgia, South Carolina and Ole Miss continue to push.
24. WR Trevon Lee, Cardinal Gibbons High School (Fort Lauderdale, FL)
The 5-11, 168-pounder should have a bright future in the slot because he catches almost everything even in traffic. Keep an eye on Duke, which may have the edge for the receiver. Stanford and Vanderbilt remain in the mix.
25. S Mattrell McGraw, John Curtis Christian High School (River Ridge, LA)
The 5-10, 180-pounder is a good tackler and very good athlete who projects to be a very good safety at the next level if he adds some muscle. Oregon could be in line for his pledge.
Others of note: OLB Hoza Scott (La Porte, TX), ATH Myles Autry (Norcross, GA), DT Nifae Lealao (Sacramento, CA), DT Poona Ford (Hilton Head, S.C.) and ATH Isaiah McKenzie (Plantation, FL)
Dave Miller, the college football editor and writer for the National Football Post, is on Twitter @Miller_Dave.