January 28, 2015 -
Dave Miller
USC is primed for a special Class of 2015
USC is set to bring in one of its most talented recruiting classes in years.
As National Signing Day approaches next Wednesday, the Trojans' Class of 2015 consists of 15 verbal pledges for 19 scholarships that are available in this cycle.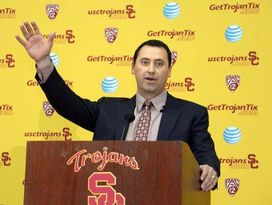 Steve Sarkisian is putting together a very strong Class of 2015.
Steve Sarkisian and his staff already have the following players enrolled for the spring semester: quarterback Ricky Town, receiver Isaac Whitney, offensive linemen Roy Hemsley and Chuma Edoga and linebacker Cameron Smith. Class of 2015 products currently pledged to USC are: quarterback Sam Darnold, running backs Aca'Cedric Ware, Dominic Davis and Ronald Jones, receiver De'Quan Hampton, tight end Tyler Petite, offensive linemen Clayton Johnston and Cole Smith, defensive backs Isaiah Langley, Ykili Ross and Marvell Tell, linebacker Osa Masina and defensive linemen Jacob Daniel, Noah Jefferson and Christian Rector. Masina was just added before last weekend, and the Salt Lake City product is considered one of the best linebacker prospects in the entire nation.
'SC can sign 19 players next Wednesday because five of the recruits mentioned above have already enrolled, while kicker Matt Boermeester was on the team this past year and counts against the 2015 total as a blueshirt recruit. A blueshirt is considered a non-recruited player (someone who did not make an official visit or host an in-home visit) who can be awarded a scholarship that counts toward the next year's class. Meanwhile, a greyshirt is a player who does not enroll until the second semester of the year.
Of course, 'SC is finally back to its full allotment of scholarships after enduring NCAA sanctions. It is the program's first full recruiting class in four years, and the Trojans have been very active this cycle.
While the current crop of pledges form a strong group, more top talent could be on the way.
There are at least four high-quality in-state targets planning on announcing their intentions on signing day: Long Beach Poly cornerback Iman Marshall, Los Angeles Salesian defensive lineman Kevin Scott as well as Gardena Serra defenders John Houston (linebacker) and Rasheem Green (defensive tackle). Sarkisian and his staff are also still in on Utah linebacker Porter Gustin, who may wait until signing day to announce a decision as well. Gustin returned an interception for a touchdown and had a sack in the U.S. Army All-American Game earlier this month. He can play either outside linebacker or defensive end at the next level. Even if the program misses out on Gustin, landing the California star players would be huge. This is considered a very strong year for California high school seniors, and that's saying something considering how much top talent the state typically produces each cycle.
Alabama will have the top-rated class in the land when all is said and done next Wednesday. But the race for the No. 2 spot nationally is intriguing. Florida State, Tennessee and possibly Auburn have a chance to be right behind the Crimson Tide, but the Trojans may be best-positioned. Edoga and Town are the gems of the class, but top targets such as Marshall, who is considered the nation's best corner, as well as Houston, Green and Gustin are all considered favorites to land in L.A.
Sark and his staff have a chance to close very strong, which is very bad news for the rest of the Pac-12. Remember when the Trojans landed versatile athlete Adoree' Jackson, receiver JuJu Smith and offensive lineman Damien Mama on signing day last year?
NCAA sanctions capped USC's roster at 75 scholarship players (10 fewer than what's allowed) for the last few seasons. Add in injuries and player departures, and there were fewer than 60 available scholarship players for the team at times in 2014. While it will likely take a few full classes to get 'SC back to consistently pursuing national championships, this recruiting cycle is a huge step in the right direction.
Dave Miller, the college football editor for the National Football Post, is on Twitter @Miller_Dave.