July 31, 2011 -
Barry Dorey
Benson's back: Veteran running back returns to Cincy
Chad Ochocinco, Carson Palmer and Terrell Owens may be gone, but Bengals fans will recognize at least one name this season when the offense takes the field.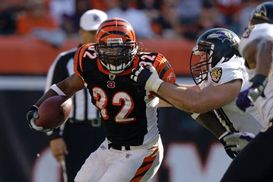 ICONIt's been a productive three years, but how much does Benson have left in the tank?
Free agent running back Cedric Benson reached an agreement on a one-year deal with Cincinnati Sunday afternoon, per Adam Schefter of ESPN.com. The deal is worth a maximum of $5 million, should Benson trigger the $2 million worth of incentives included in the contract, according to a tweet from John Clayton of ESPN.
The 28-year-old former Longhorn spent three disappointing seasons in Chicago before catching on with the Bengals in 2008. In three seasons in Cincinnati, Benson has rushed for 3,109 yards and 15 touchdowns in 39 starts.
Based on Benson's decrease in production last season, we're still wondering why the Bengals have yet to give two-year veteran Bernard Scott a shot at the starting job
However at this point, nothing that happens in Cincinnati tends to surprise us anymore.
Hit me up on Twitter: @JoeFortenbaugh