July 31, 2011 -
Joe Fortenbaugh
Bills bag Barnett
While standing in the Buffalo Bills locker room on Sunday, free agent linebacker Nick Barnett tweeted that he couldn't wait to find a new home.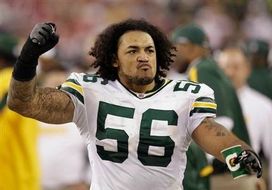 Nick Barnett is headed to Buffalo.
A few hours later and the wait has already come to a close.
Adam Schefter of ESPN is reporting that Barnett has reached an agreement with the Buffalo Bills on a three-year contract worth $12 million that includes $6 million guaranteed.
On paper, this looks like a good match for both sides. The Bills ranked 24th in the league in total defense last season and just lost linebacker Paul Posluszny to the Jacksonville Jaguars earlier in the week.
As for Barnett, the eight-year veteran is coming off a season-ending wrist injury that limited him to just four games in 2010. A starting job with the Bills will give him a chance to get his career back on track.
Hit me up on Twitter: @JoeFortenbaugh