December 30, 2014 -
Joe Fortenbaugh
Bowl game betting primer: Part II
Bowl season has a habit of producing some utterly insane results. So the hope is that you can either sidestep these yearly landmines by avoiding the game altogether or somehow find yourself on the correct side of an absurd outcome.
Look no further than the Christmas Eve spectacular between Western Kentucky and Central Michigan for proof, as the Hilltoppers (that's obviously the team we were backing) blew a 49-14 fourth quarter lead, but hung on to win (and not cover) 49-48.
Twitter exploded following the 75-yard miracle that doomed our evenings, but all you can really do in those situations is shake it off as quickly as possible and hope that the gambling gods balance out your karma somewhere down the road.
Actually, to hell with all of that. I'm still pissed about that finish.
Last week: 2-4
Season: 40-50 (.444)
CHICK-FIL-A PEACH BOWL
#9 Mississippi Rebels (9-3, 2-2 road) vs. #6 TCU Horned Frogs (11-1, 4-1 road)
When: Wednesday, December 31 at 12:30pm ET
Location: Atlanta, Georgia
Open: TCU -3
Current: TCU -3.5
Mississippi in 2014: 7-4-1 ATS, 9-2 to the UNDER
TCU in 2014: 10-2 ATS, 8-4 to the OVER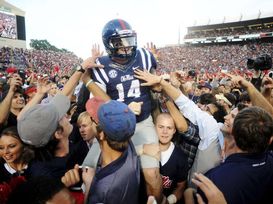 Bo Wallace and the Rebels are primed for the upset.
Analysis: TCU entered the final meaningful week of the college football regular season slotted third in the inaugural college football playoff rankings, but inexplicably fell to sixth following a 55-3 thrashing of Iowa State. Being as how college football is all about everybody getting rich except for those who actually put their bodies as risk, it was no surprise to see a big draw like Ohio State fly up the board to claim the fourth and final playoff spot, leaving an 11-1 TCU squad dejected at having to play in what the team could be viewing as a meaningless December 31 bowl game. So whether or not the Horned Frogs are motivated to show up in this one is a huge concern. We stand on the side that feels TCU doesn't care much for this showdown after having a shot at the title ripped from its hands, so give us the Rebels, the nation's top-ranked scoring defense (13.8 pts/gm) and 3.5 points and we'll gladly settle in front of the couch to watch the Peach Bowl.
Notable trends: Mississippi is 4-0-1 ATS over its last five bowl games while TCU is 0-5 ATS over its last five bowl games.
Pick: Mississippi (+3.5)
ROSE BOWL
#2 Oregon Ducks (12-1, 5-0 road) vs. #3 Florida State Seminoles (13-0, 4-0 road)
When: Thursday, January 1 at 5:00pm ET
Location: Pasadena, California
Open: Oregon -8
Current: Oregon -9
Oregon in 2014: 9-4 ATS, 6-6-1 to the OVER
Florida State in 2014: 3-10 ATS, 8-5 to the UNDER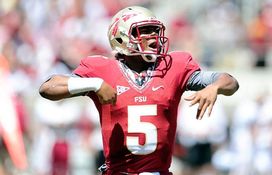 Winston and the Seminoles are feeling little love within the betting markets.
Analysis: Correct me if I have this wrong: The defending champion Florida State Seminoles, winners of 29 straight games, head to the Rose Bowl as a staggering 9-point underdog for a matchup with Oregon, per Sportsbook Review.com? I get the fact that the Ducks won and covered the number in each of their final eight games of the year while the Seminoles covered the spread in just three of 13 contests this season, but that is far too many points to lay against the 2013 Heisman Trophy winner. FSU has been in the big spot before, while 2014 Heisman Trophy winner Marcus Mariota has never come close to this grand of a stage. The Seminoles may have played down to their competition this season, but with a month to prepare and far more on the line come January 1, they'll get up in a big way for this semifinal encounter.
Notable trends: Oregon is 5-2 ATS over its last seven bowl games while Florida State is 8-1-1 ATS over its last ten bowl games.
Pick: Florida State (+9)
ALLSTATE SUGAR BOWL
#1 Alabama Crimson Tide (12-1, 3-1 road) at #4 Ohio State Buckeyes (12-1, 4-0 road)
When: Thursday, January 1 at 8:30pm ET
Location: New Orleans, Louisiana
Open: Alabama -9.5
Current: Alabama -9.5
Alabama in 2014: 5-8 ATS, 6-6 to the OVER
Ohio State in 2014: 8-5 ATS, 11-2 to the OVER
Analysis: The Crimson Tide are a juggernaut and there is no disputing that sentiment, as it's tough to find flaws in a program that has gone 72-8 (.900) with three national championship victories since 2009. Still, this is a big number to lay on a squad that has gone just 5-11-1 ATS over its last 17 games that will be facing a well-rested and ultra-prepared Urban Meyer football club. Ohio State's 21st-ranked scoring defense (21.2 pts/gm) will be the key to success in the Sugar Bowl, as Bama has recorded 42 or more points in each of its last three contests. And don't think for one second that Meyer hasn't been selling the Buckeyes on the fact that many feel they shouldn't be playing in this game (TCU, anyone?). We'll hold our nose here in the hopes that a +10 surfaces sometime before kickoff.
Notable trends: Alabama is 0-7-1 ATS over its last eight non-conference games while Ohio State is 6-2 ATS over its last eight non-conference games.
Pick: Ohio State (we're waiting for +10, but will play +9.5)
TAXSLAYER BOWL
Iowa Hawkeyes (7-5, 3-2 road) vs. Tennessee Volunteers (6-6, 2-3 road)
When: Friday, January 2 at 3:20pm ET
Location: Jacksonville, Florida
Open: Tennessee -2.5
Current: Tennessee -3.5
Iowa in 2014: 6-6 ATS, 6-5-1 to the OVER
Tennessee in 2014: 6-6 ATS, 6-4-1 to the UNDER
ICONFerentz is 5-1 ATS over his last six bowl games.
Analysis: Say what you will about Iowa head coach Kirk Ferentz and the Hawkeyes, but the reality of the situation is that the man is good with a month to prepare his team for postseason play. Ferentz is 5-1 ATS over his last six bowl games and word around the campfire is that the Hawkeyes have been putting together some exceptional practices in the build-up to the school's showdown with Tennessee. We believe that this will be a classic situation in which the public shows heavy support for the SEC school over the Big Ten program, so we've got no problem backing the contrarian angle here on January 2.
Notable trends: Iowa is 6-2 ATS over its last eight neutral site games while Tennessee is 3-8 ATS over its last 11 non-conference games.
Pick: I owa (+3.5)
BIRMINGHAM BOWL
East Carolina Pirates (8-4, 3-3 road) vs. Florida Gators (6-5, 2-2 road)
When: Saturday, January 3 at 12:00pm ET
Location: Birmingham, Alabama
Open: Florida -7.5
Current: Florida -7
East Carolina in 2014: 5-7 ATS, 6-6 to the OVER
Florida in 2014: 6-5 ATS, 8-3 to the OVER
Analysis: East Carolina hasn't played in a January bowl game since 2010 and missed the college football postseason entirely last year, so the assumption is that this team should be pretty jacked up at the chance to knock off a reeling SEC school that just dumped its head coach after another disappointing campaign. After opening as more than a touchdown favorite, Florida has since been knocked down to as low as -6.5 at some shops, which is a significant move since it crossed through the key number of 7. The thought process here is that we've got a motivated team (ECU) against a squad that probably cares very little to be playing in this game, so we might as well take the touchdown and brace for the upset.
Notable trends: East Carolina is 5-0 ATS over its last five non-conference games while Florida is 4-1 ATS over its last five bowl games.
Pick: East Carolina (+7)
Hit me up on Twitter: @JoeFortenbaugh