July 31, 2011 -
Barry Dorey
Cardinals trade Tim Hightower to Redskins
After the Cardinals spent a second-round pick on Virginia Tech running back Ryan Williams this past April, the backfield situation in Arizona became a bit too crowded.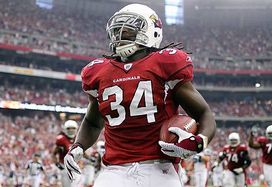 In Washington, Hightower will have a chance to become a starter.
So the Cardinals went ahead and created some breathing room Sunday afternoon when they sent veteran running back Tim Hightower to the Washington Redskins in exchange for defensive end Vonnie Holliday and an undisclosed draft pick, per ESPN.
The move caps an active week for a Cardinals organization that has acquired a franchise quarterback in Kevin Kolb, added a new tight end in Todd Heap and signed first-round pick Patrick Peterson.
As for Washington, Mike Shanahan now has a dual-threat running back who amassed 118 receptions during his three years in Arizona.
For all you fantasy football players, expect to hear the words Tim Hightower and sleeper in conjunction with one another over the next month.
Hit me up on Twitter: @JoeFortenbaugh