May 31, 2012 -
Joe Fortenbaugh
Fantasy stock watch
As we continue our preparation for the fast-approaching draft season, today we're going to examine the market and isolate ten players who are currently being either undervalued or overvalued.
Close to 900 mock drafts have already taken place over at Fantasy Football Calculator.com, so we're going to use their ADP (Average Draft Position) data as the basis for our evaluations.
OVERVALUED: Aaron Rodgers, QB, Green Bay Packers (ADP: 4.2, QB Rank: 1)
Analysis: Rodgers is without question one of the most prolific passers in the NFL. But with a loaded quarterback class at your disposal on draft day, is it worth spending a top-five pick on a signal-caller when you could wait a couple of rounds to select a guy like Matthew Stafford or Cam Newton? I'd rather acquire a workhorse running back with a top-five pick and then address the QB position further down the line.
UNDERVALUED: Jay Cutler, QB, Chicago Bears (ADP: 98.7, QB Rank: 14)
Analysis: With wide receivers Brandon Marshall and Alshon Jeffery now in the mix, Cutler is poised for a big statistical season that could land him in the top-seven in fantasy points scored at the quarterback position come the conclusion of the season. In a 12-team league, Cutler would likely serve as a QB2 if he's the 14th signal-caller to hear his name called. That's tremendous value.
OVERVALUED: Ryan Mathews, RB, San Diego Chargers (ADP: 6.0, RB Rank: 4)
Analysis: Mathews bounced back from an underwhelming rookie campaign in 2010 to post a top-ten fantasy finish last season. And with Mike Tolbert no longer around to vulture the goal line touchdowns, the former Fresno State standout could emerge as one of the fantasy world's top running backs in 2011. But he's missed time due to injuries in each of the last two seasons (six total games), which raises a red flag. I'd rather target Mathews at the end of the first/beginning of the second round rather than in the top-six selections.
UNDERVALUED: Michael Turner, RB, Atlanta Falcons (ADP: 27.5, RB Rank: 16)
Analysis: He's 30-years-old and doesn't catch a lot of passes, but Turner has amassed 300+ carries and three top-ten fantasy finishes in three of the last four seasons. I think he's still got enough left in the tank to produce at a level higher than the 16th overall running back in 2012.
OVERVALUED: Greg Jennings, WR, Green Bay Packers (ADP: 24.7, WR Rank: 4)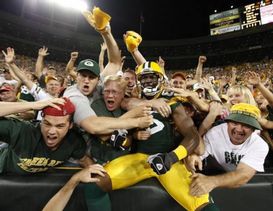 Jennings ranked 41st in the NFL in targets last season, with 101.
Analysis: Jennings has posted just one top-15 fantasy finish over the last three years, so why is he suddenly the fourth receiver off the board? He's on a high-powered offense with a great quarterback, but guys like Jordy Nelson, Jermichael Finley, James Jones and Randall Cobb are going to cut into his targets once again in 2012. I'd feel more comfortable paying a cheaper price for a wideout like A.J. Green, Wes Welker or Victor Cruz.
UNDERVALUED: Miles Austin, WR, Dallas Cowboys (ADP: 47.4, WR Rank: 18)
Analysis: Don't let his lackluster 2011 campaign fool you on draft day. Austin was admittedly out of shape last season, which contributed to injuries that limited the Dallas wideout to just ten games. But from 2009-2010, Austin caught 150 passes for 2,361 yards and 18 touchdowns. The 28-year-old could be the steal of the draft if he falls all the way until the fifth round.
OVERVALUED: Robert Griffin III, QB, Washington Redskins (ADP: 90.1, QB Rank: 12)
Analysis: I'm as excited as anyone to see what RG3 can do as a rookie in Washington this season. But drafting him ahead of guys like Matt Schaub, Jay Cutler and Ben Roethlisberger is something I'm not interested in doing. Rookie quarterbacks bring a high level of risk. For every Cam Newton, there's a Blaine Gabbert and Christian Ponder struggling to make plays down the field. The price in this situation is simply too high.
UNDERVALUED: Tony Gonzalez, TE, Atlanta Falcons (ADP: 110.7, TE Rank: 11)
Analysis: Sure, he's 36-years-old. But as a 35-year-old, Gonzalez posted his fifth top-five fantasy finish of the last six years. He's caught 80 of more passes in four of his last five seasons and is 100% guaranteed to show up in top physical condition. That's just how Gonzo operates. With all of that in mind, I've got no issue pulling the trigger on the future Hall of Famer inside of the first ten rounds.
OVERVALUED: Julio Jones, WR, Atlanta Falcons (ADP: 35.0, WR Rank: 11)
Analysis: Jones finished 20th in scoring at the wide receiver position as a rookie in 2011 and we think he can take a strong step forward in his sophomore campaign. But as the 11th receiver off the board, he's getting drafted before players like Jordy Nelson, Miles Austin and Hakeem Nicks, all of whom I'd rather roll the dice on instead of a guy who has to compete with Roddy White for targets.
UNDERVALUED: BenJarvus Green-Ellis, Cincinnati Bengals (ADP: 42.8, RB Rank: 21)
Analysis: In the same offense playing 15 games with only 15 receptions, 29-year-old Cedric Benson posted a top-22 fantasy finish in 2011. Two years younger and with far less tread on his tires (510 career carries), Green-Ellis finally has the opportunity to become a workhorse running back who makes a serious dent on the fantasy landscape. Keep this guy on your radar this summer because his stock is going to rise.
Hit me up on Twitter: @JoeFortenbaugh