July 31, 2011 -
Barry Dorey
Packers lock up James Jones for three more years
Despite rumors at one point earlier in the week that suggested he could jump ship to division-rival Minnesota, free agent wide receiver James Jones is staying put with the team that drafted him.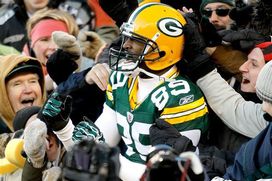 James Jones is back with the Pack.
Tom Silverstein of the Milwaukee Journal Sentinel is reporting that the Green Bay Packers have reached an agreement with Jones on a three-year deal. The financial details of the contract weren't immediately made available.
With Donald Driver now 36-years-old, there were plenty of questions this offseason about how the defending champs planned to approach the wide receiver position entering camp. Top target Greg Jennings has already been locked up for the foreseeable future and some believe that Jordy Nelson could emerge as the No. 2 weapon in Green Bay this season.
In any event, the Packers just re-signed a popular wideout who is coming off the best statistical season (50-679-5) of his four-year career, not to mention an impressive five-reception, 50-yard effort in last February's Super Bowl win.
With a healthy Jermichael Finley returning to the lineup this fall, it's no wonder the Packers are currently the NFC favorites (6/1) to win the Super Bowl.
Hit me up on Twitter: @JoeFortenbaugh