December 22, 2014 -
Joe Fortenbaugh
Updated Super Bowl odds: The rise of the champs
The top of the Westgate Las Vegas SuperBook odds board has seen plenty of turnover over the last few weeks in regards to the shop's Super Bowl prices, as the Green Bay Packers relinquished the title of "favorite" last week to the New England Patriots before the defending champion Seahawks stepped in on Monday to claim their rightful spot on the throne.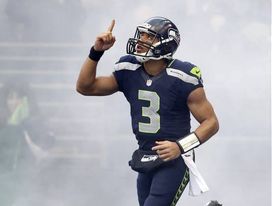 Wilson and the Seahawks are back on top of the Westgate odds board.
Winners of eight of their last nine outings and led by a defense that is surrendering an average of just 6.6 points per game over its last five starts, the Seahawks now reside at a price of 5/2 to win February's Super Bowl following a thorough 35-6 dismantling of former NFC West leader Arizona.
The New England Patriots, who sat atop the board last Monday at a price of 5/2, slipped to 11/4 to make room for the Seattle surge. And after claiming the NFC East in dominating fashion, Tony Romo and the Dallas Cowboys jumped from 12/1 to 10/1 while division rival Philadelphia fell off the board entirely.
The entire rundown is listed below.
Note: The odds in parenthesis indicate where each team was listed back on August 25.
Seattle Seahawks: 5/2 (9/2)
New England Patriots: 11/4 (8/1)
Green Bay Packers: 9/2 (10/1)
Denver Broncos: 5/1 (5/1)
Dallas Cowboys: 10/1 (75/1)
Indianapolis Colts: 20/1 (20/1)
Pittsburgh Steelers: 20/1 (20/1)
Detroit Lions: 25/1 (40/1)
San Diego Chargers: 30/1 (30/1)
Arizona Cardinals: 40/1 (40/1)
Cincinnati Bengals: 40/1 (20/1)
Atlanta Falcons: 60/1 (60/1)
Baltimore Ravens: 60/1 (25/1)
Carolina Panthers: 80/1 (60/1)
Houston Texans: 300/1 (25/1)
Kansas City Chiefs: 1000/1 (50/1)
OFF THE BOARD
San Francisco 49ers (10/1)
New Orleans Saints (7/1)
Philadelphia Eagles (25/1)
Chicago Bears (20/1)
New York Giants (40/1)
Washington Redskins (50/1)
St. Louis Rams (75/1)
Miami Dolphins (50/1)
Tampa Bay Buccaneers (100/1)
Tennessee Titans (100/1)
New York Jets (60/1)
Buffalo Bills (60/1)
Minnesota Vikings (100/1)
Cleveland Browns (100/1)
Jacksonville Jaguars (200/1)
Oakland Raiders (100/1)
Hit me up on Twitter: @JoeFortenbaugh