January 31, 2014 -
Joel Corry
Hall of Fame predictions
The 46 member Pro Football Hall of Fame Selection Committee will decide the fate of the 15 modern era finalists and two Seniors Committee nominees in New York City on February 1. The election process begins with a discussion on each of the 17 candidates before a vote is taken on the senior nominees. Following that discussion, the 15 modern era finalists are reduced to 10. Another cut is then made to the final five candidates. Each of the final five are voted on individually. A minimum of 80 percent of the vote is required in order to be enshrined. A Hall of Fame class must consist of at least four members with a maximum of seven inductees. The 2014 class will be announced later that evening during the NFL Honors show.
Expect at least one of the senior nominees to be elected. Their enshrinement rate has been 80 percent (16 of 20) since the selection process added a second senior candidate in 2004. Additionally, five modern era candidates will likely be a part of this year's class. 2007 was the last time one of the final five (Paul Tagliabue) was not elected. Here's my prediction for the 2014 Hall of Fame class.
First Year Eligible Candidates
Derrick Brooks (LB)-Tampa Bay Buccaneers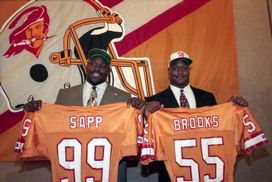 Brooks and Sapp anchored one of the nastiest defenses in NFL history.
Brooks was a five-time first-team All-Pro and 11-time Pro Bowl selection in 14 NFL seasons. The 2000s All-Decade team member was the co-leader with Warren Sapp, who was a first ballot Hall of Famer last year, of one of the best defenses in the last twenty years. The Buccaneers were ranked in the top 10 in both scoring defense and total defense for nine straight seasons (1997-2005). In the Tampa 2 defense, Brooks was the ideal weakside linebacker. He excelled in coverage and space. Brooks was named the NFL's Defensive Player of the Year in 2002 when he led all linebackers with five interceptions for 218 return yards (third in the NFL) and three touchdowns (first in the NFL) while playing on a defense that was ranked first in both scoring defense and total defense. The Buccaneers also had the only Super Bowl victory in franchise history that season. It will be hard for the selection committee to justify putting Sapp in on the first ballot while denying Brooks in his first try given the two players were equally important to Tampa Bay's defensive success.
Marvin Harrison (WR)-Indianapolis Colts
Harrison was named first-team All-NFL six times and elected to eight Pro Bowls during his 13-year NFL career. He was a first-team wide receiver with Randy Moss on the 2000s All-Decade team. Harrison ranks third in NFL history with 1,102 receptions, seventh with 14,580 receiving yards and fifth with 128 receiving touchdowns. He set the NFL single season record for receptions in 2002 with 143. The next closest single season total is 123 receptions. Harrison was the first NFL player to have three consecutive 1,500 receiving yard seasons. Although there isn't a limit each year on the number of inductees at a position, Harrison faces competition from Tim Brown, a four-time finalist, and Andre Reed, a seven-time finalist. Unlike Harrison, Brown and Reed weren't named first team All-Decade. The selection committee isn't supposed to consider off the field issues, but Harrison was a person of interest in a 2008 Philadelphia shooting involving a gun owned by him. Five wide receivers have been first ballot Hall of Famers, with Jerry Rice as the most recent in 2010. Harrison should be the sixth.
Walter Jones (OT)-Seattle Seahawks
Jones was a six-time All-Pro and nine-time Pro Bowler in 12 NFL seasons. A good case can be made that Jones was the best offensive lineman of the 2000s. If the distinction doesn't belong to Jones, then it goes to Jonathan Ogden, who was elected to the Hall of Fame in 2013 during his first year of eligibility. Jones and Ogden have similar resumes. The two players are the first-team tackles on the All-Decade team for the 2000s. A difference is Jones doesn't have a Super Bowl ring like Ogden. Jones' only Super Bowl appearance was in the 2005 season when the Seattle Seahawks lost to the Pittsburgh Steelers in Super Bowl XL. Recent selection trends favor offensive lineman. An offensive lineman has been elected to the Hall of Fame in seven of the last eight years. If the Selection Committee applies the same standard to Jones as they did with Ogden, then Jones should be inducted, unless winning the Super Bowl carries significant weight.
Returning Finalists
Charles Haley (DE/LB)-Dallas Cowboys/San Francisco 49ers
Haley is a finalist for the fifth straight year. He made the first cut of finalists in 2012 and 2013 without advancing to the final five either year. Haley was named All-Pro twice and to five Pro Bowls during his 13-year NFL career. He was the NFC's Defensive Player of the Year in 1990 and 1994. Haley has 100.5 total sacks, with a season best 16 in 1990. His trade to the Dallas Cowboys in 1992 swung the balance of power in the NFL. He added three Super Bowl rings after the trade to go along with the two rings he had already earned with the San Francisco 49ers. Haley is the only player in NFL history to win five Super Bowls. His 4.5 sacks in Super Bowls are the most of any player. Haley was a difficult teammate and antagonized the media, which could be factors with the selection committee.
Michael Strahan (DE)-New York Giants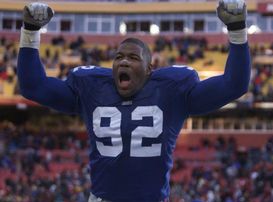 Strahan notched an NFL record 22.5 sacks in 2001.
Strahan survived the reduction to 10 candidates last year as a first-year eligible finalist, but was eliminated from consideration during the second reduction. He was a five-time first team All-Pro and received seven Pro Bowl berths during his 15 NFL seasons. The 2000s All-Decade team member is fifth on the all-time sack list with 141.5 sacks. Strahan set the NFL single season sack record in 2001 when he registered 22.5 sacks en route to becoming the NFL's Defensive Player of the Year. He won his second sack title in 2003 by notching 18.5 sacks. Strahan was more than just a pass rusher, as he was also stout against the run. Strahan ended his career in grand fashion after the 2007 season with a victory over the New England Patriots in Super Bowl XLII, his second Super Bowl appearance. It is a rarity for there to be two defensive ends in the same Hall of Fame class, but the selection committee strays from convention this time.
Seniors Committee Nominees
Ray Guy (P)-Los Angeles/Oakland Raiders
Guy is the only true punter to be named as a modern era finalist. He reached the finalist stage of the selection process seven times over a 17-year period beginning in 1992. Guy was an eight-time All-Pro and seven-time Pro Bowler in 14 NFL seasons. He is a member of the 1970s All-Decade team and the NFL's 75th Anniversary All-Time team. Guy's booming punts are credited with coining the term, "hang time." He led the NFL in punting three times (1974, 1975 and 1977). Guy finished second in punting three times and third once. He is also a three-time Super Bowl champion. 23 years have passed since the selection committee recognized the importance of special teams by electing Jan Stenerud, the only kicking specialist in the Hall of Fame.
Claude Humphrey (DE)-Atlanta Falcons/Philadelphia Eagles
Humphrey made it past the first reduction twice during his three times as a modern era finalist. He was also a Senior s Committee nominee in 2009. Humphrey earned first team All-Pro honors five times and was selected to six Pro Bowls during his 14-year NFL career. Sacks didn't become an official statistic until 1982 after Humphrey retired, but he is credited with 122 career sacks. Humphrey was named 1968 Defensive Rookie of Year after recording 11.5 sacks in his debut NFL season. He was a cornerstone of the Atlanta Falcons' top-ranked "Gritz Blitz" defense in 1977, which set the NFL record for fewest points allowed per game (9.2). Humphrey's lone Super Bowl appearance came in Super Bowl XV with the Philadelphia Eagles. Bob Hayes is the only other senior candidate to be named a finalist twice under the expanded senior process. If history repeats itself, Humphrey is elected in his second attempt as a senior nominee, just like Hayes.
Follow me on Twitter: @corryjoel
Joel Corry is a former sports agent who helped found Premier Sports & Entertainment, a sports management firm that represents professional athletes and coaches. Prior to his tenure at Premier, Joel worked for Management Plus Enterprises, which represented Shaquille O'Neal, Hakeem Olajuwon and Ronnie Lott. You can email Joel at jccorry@gmail.com.