February 11, 2013 -
Matt Bowen
Can Rob Ryan bring immediate change to Saints?
Sit up straight. And bring a notebook.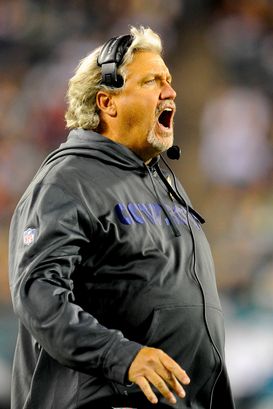 US PRESSWIRERob Ryan was hired for one reason: to fix the Saints' defense.
That's my best advice for the members of the Saints' defense when they have their first meeting under new coordinator Rob Ryan later this spring.
Schemes are one thing. Ryan will install a new playbook when the Saints start their offseason workout program and begin to prep for OTAs, etc. A switch to the 3-4 front and a secondary that will be asked to play more blitz-man with the multiple pressure packages Ryan carries in his Sunday game plan.
But that's just chalkboard stuff. Xs and Os. Plenty of time to check out the Cowboys' tape from the 2012 season and figure out where the Saints need to add personnel via free agency and throughout the long and tiresome draft process.
However, the players (the ones that survive offseason cuts) have to realize that Ryan was hired because they didn't produce. That's it. In a league based on winning games above anything else, this Saints' defense didn't play football at an acceptable standard.
And now Ryan is coming in to change that.
I've been there as a player. Twice actually. Way back in 2001 Lovie Smith was hired in St. Louis and in 2004 it was Gregg Williams in Washington. Two new coordinators brought in because our defense didn't past the test the season before.
Lovie and Gregg are different in their personalities and how they approach the game, but the goal was the same: fix the defense.
That starts in the first meeting. There are new demands, new rules and a new sense of accountability in the defensive team meeting room. Everything is going to change. Get on board or get out. It's that simple in pro ball.
Can there be immediate change in New Orleans with Ryan running the defense? Sure, that's possible. And it could happen. Under Lovie and Gregg, our defenses played faster and produced at a much higher level after just one offseason.
The Saints will eventually get on the practice field after the draft and run around in shorts and helmets. A dress rehearsal until real jobs are won in camp when the pads go on.
But until then, those early meetings with Ryan will be key to developing a new style of defense in New Orleans. And the players have to be ready to buy into much more than just the schemes being drawn up on the chalkboard.