December 31, 2010 -
Matt Bowen
Can Wade Phillips save Kubiak, Texans?
Houston's Gary Kubiak was the No.1 name on my list of head coaches that needs to go when I broke down the annual NFL coaching hot seat earlier this week. A club that started 4-2 and has once again failed to meet season long expectations under Kubiak. With a 5-10 record heading into Week 17, Houston is just playing out the schedule.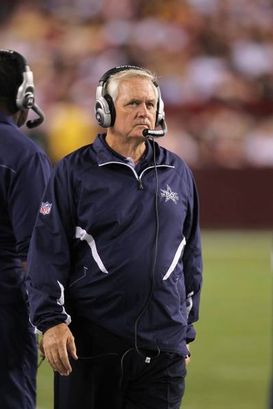 ICONIs the Phillips the answer for Kubiak and the Texans' defense in 2011?
But, Texans' owner Bob McNair is expected to keep Kubiak around—again. The answer this time? Bring in former Cowboys' head coach Wade Phillips to run the defense. I have no doubts about Phillips' ability to coach defensive football—or how his players would perceive him as a coordinator. However, is this the answer, the key to the Texans' playing winning football in the NFL and competing—consistently—with Indy, Jacksonville and Tennessee?
I get the idea of bringing in Phillips. The Texans have explosive playmakers on offense. Schaub, Johnson, Foster, etc. They should score points and put the defense in a position to win games. With a change in leadership on defense, the Texans will expect that side of the ball to close out games, make plays in crucial 2-minute situations and respond when they are put into an adverse situation—with the game on the line.
However, is it really that easy? Can Phillips walk into that first team meeting this offseason, grab the attention of the entire defensive side of the ball and start teaching a new system—one that comes with actual accountability? I have seen it happen in my own career when Gregg Williams came to Washington to run the defense. That first meeting was an eye-opening experience. But after working throughout the offseason, we went from a defense ranked near the bottom of the list in '03 to a top five unit in the '04 season. It can happen that quickly, but don't count on it.
The scheme will be different and the players will have to buy into it. Mario Williams may find himself as a five-technique in a 3-4 front or even as an outside linebacker rushing off of the edge—like Phillips had with DeMarcus Ware in Dallas. That Houston secondary will have to step up and compete on Sundays when they are asked to play blitz-man coverage—a symbol of Phillips' defenses. Overall, there will be change. Something that Texans' fans should want to see, but something that also may take time.
The Texans' defensive players should welcome this change—and asked to be coached hard. But Phillips isn't a guarantee for Kubiak and his future. Hiring him is just another attempt to win in Houston.
Have a safe New Year's Eve…
Follow me on Twitter: MattBowen41