February 28, 2011 -
Matt Bowen
Meeting with a priest? Welcome to the combine
The player interviews at the NFL combine. For some prospects, that is a major tool in the evaluation process—bigger than what they do on the field at Lucas Oil Stadium. Take Auburn's Cam Newton as an example. NFL teams want to find out what type of person you are on top of what they see on the game tape.
Back in 2000, I went through the same process in Indianapolis. Sure, it was a much smaller scale compared to a top prospect such as Newton, but I walked into hotel suites and met with the big names in the business—coaches and GMs you see on TV.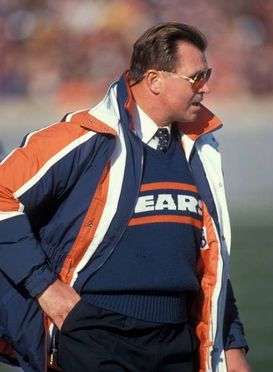 ICONI would have been more comfortable interviewing with Ditka than a priest.
I then met with a team that caught me off guard. However, it wasn't a coach, scout or GM asking me about my past. There wasn't a coverage thrown up on the board with schemes I couldn't break down, etc.
In this suite, I met with a priest.
Let me set it up. I walk into the suite of a team (which will remain unknown) and there is a priest sitting in one of the chairs. I play it off like this is something I am accustomed to seeing outside of Sunday Mass and sit down.
And then the guy in the collar starts firing off questions.
Maybe this team knew I was Catholic or maybe the guy wasn't even a priest (I thought it might be a quality control coach dressed up). Regardless, I start to panic a little. My answers are choppy and I feel like I am sitting in a confession booth. I start sweating and I can feel my heart pounding in my chest.
Should I tell him about the crap I pulled as a sixth grader in Catholic school? Do I spill my guts here? I can't lie, right? This all starts to enter my mind and I find myself having a hard time keeping up with this priest who is asking me about my religion, my faith, etc.
I am failing this interview.
To be honest, I would have rather been sitting in a room with Bill Parcells or Mike Ditka at the time. They would have been less intimidating in my eyes. Even an angry Ditka, the one on the sidelines in Chicago during '85 season.
Finally, my heart rate slowed down and I was informed that this priest traveled with the team, offered guidance and so on. He finished up his questioning and then the coaches started asking about the defensive scheme I played in at Iowa, if I drank beer (which I did) and so on.
They didn't end up drafting me. I went to St. Louis instead—a team that I never even spoke to in Indy. But I've always wondered if that was the one team that got me to shuffle in my seat. And if that guy was really a priest.
You have to love the NFL combine.
Follow me on Twitter: MattBowen41