February 07, 2013 -
Matt Bowen
NFL vets beware: the offseason cuts are coming
A phone call from an NFL head coach in February? Well, he isn't calling to check in or ask about your family. Nope. That doesn't happen in the pros.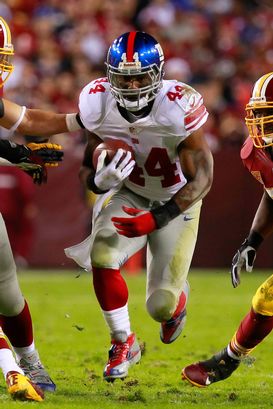 US PRESSWIREThe Giants cut veteran RB Ahmad Bradshaw on Wednesday.
You see, head coaches call veteran players after the season for only one reason: to let you go.
That's right. You're fired. Done. Finished. No more football for you in that city. Sit there on the phone for five to ten minutes and listen to the same speech that guys all over the league will hear this offseason.
The "tough" decision the coach had to make. Or the fact that the team "really values" your professional approach in the locker room. And maybe you will get the line that the club "might bring you back" later in the spring.
Sure, buddy. OK.
I've been there as a player—twice. And there is no perfect time for it.
Joe Gibbs called me up when I was getting off a plane in Vegas. And Dick Jauron let me know right as I was sitting down to eat dinner at my grandma's house in Tampa (I didn't have the heart to tell her that I just got fired).
And it's already started again in the NFL. On Wednesday, the Giants cut Ahmad Bradshaw and earlier in the week other players were informed that their contracts—the ones they signed for multiple years—were terminated.
I knew it was coming both times in the offseason during my career. Fact is I didn't play well enough nor did I stay healthy. Accountability. That's what I call it in the NFL.
No excuses needed. That was the truth.
But it still stings when you glance down at your phone, see a number that's not in your contact list and then check out the area code. Hey, if that area code matches the city you play in, well, it's not good news. I can tell you that.
No one wants to get cut. Whether you are about to grab a taxi over to the MGM Grand in Vegas or eat a home cooked meal at grandma's place down in Florida, the idea of becoming a free agent can cause a sense of panic.
I know it did for me.
You call your agent, start the waiting game of finding a new club, pack up and move—again. And that only happens if you get some interest on the market after the top tier free agents sign their new deals.
As I have said many times before, this is a tough, tough business. And it's cold. Really cold. We aren't even a week removed from the final game of the season and guys are already getting cut.
But I will say this: it's part of the job as a pro. And if you play long enough, that call is coming at some point.