April 30, 2011 -
National Football Post
Fifth Round Value Picks
Here's a look at three of my favorite picks from round five…
New England Patriots: OL Marcus Cannon (selected #138)
From a talent standpoint, Cannon is a second round caliber prospect who can play both tackle and guard. However, there was a medical scare with him last week pertaining to a mass found in his body, but there's a good chance he will be 100% healthy in about 10-12 weeks. With so many picks to play with, the Pats may have found another late round steal.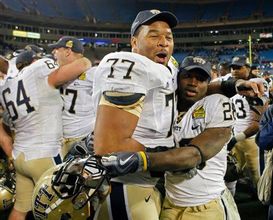 Former Pittsburgh OT Jason Pinkston.
Cleveland Browns: OL Jason Pinkston (selected #150)
Pinkston played left tackle at Pitt, but will kick inside at the next level. He has some pop at the point of attack, can gain leverage and drive defenders off the football. Needs to play in tight areas, but as a downhill guard in the Browns power run game, I love this pick.
Washington Redskins: WR Niles Paul (selected #155)
He's built like a running back and is a powerful strider down the field when asked to get vertical. I can see him making plays both from the slot and on the outside for the Redskins, plus he's a load to bring down after the catch. The biggest question I have with Paul is in regards to his hands. However, it has more to do with his concentration than his ability to pluck the football.
Follow me on Twitter: @WesBunting