March 31, 2011 -
National Football Post
Pro day shakedown
The NFP takes a look at some of the top prospects to work out this past week and discusses what their pro day performances mean for their draft stock going forward.
DL Lawrence Guy: Arizona State (6-5, 304)
Guy is one of the more interesting prospects in the defensive line class as he possesses an impressive size/speed combo, can bend and has some anchor to his game as well. He ran in the high 4.9 range at his pro day, proved how gifted of an athlete he was during position drills and could end up being one of the more sought after five-technique prospects in this year's draft after round one. There are some concerns about his overall instincts and mental make-up. However, if he can continue to improve in that area, he really is a gifted athlete with starting potential in the NFL.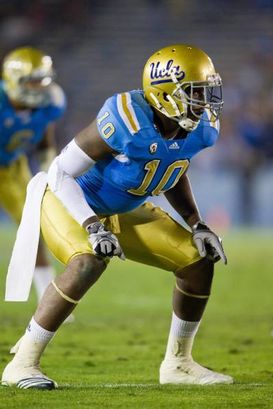 ICONAyers had a strong pro day showing.
DB Aaron Williams: Texas (6-0, 201)
Williams dramatically improved his 40 time from the NFL Combine, running in the low 4.4 range, nearly a tenth of a second faster than he ran in Indianapolis. However, Texas is known for its fast track and a lot of NFL executives will either add time to prospects pro day results or just stick to the Combine times. Either way when you watch the tape, there seems to be a lack of a second gear to Williams' game when asked to turn and run, and at 201 pounds he might need to lose some weight if he hopes to play on the outside in man coverage in the NFL.
OLB Akeem Ayers: UCLA (6-3, 259)
Ayers showed up five pounds heavier than he did at the NFL Combine, at nearly 260 pounds. However, he ran much better, posting a time in the high 4.6/low 4.7 range and looked very comfortable and fluid during positional drills. When I watched the workout it's rare to find a guy at his size to be able to cleanly change directions and open up his hips, and I really do think he can play just about any linebacker position in any scheme. However, you can't ignore his ability to attack downhill and I think he's got too much upside because of his burst, length and athleticism to not get a real look at as 3-4 rush guy.
CB Brandon Burton: Utah (6-0, 188)
The ability to quickly recover is still the biggest question concerning Burton's upside as a pro, as he ran two forties in the 4.5 range and on tape simply doesn't have the second gear needed to make up for a false step. Now, he can be physical off the line and will tackle in space. But he needs to be able to get his hands on receivers in order to be effective. In my view Burton has to play in more of a press scheme or Cover 2 look where he can play near the line, because if he misses on the jam initially, he will struggle to recover down the field.
DT Cameron Heyward: Ohio State (6-5, 295)
A lot of scouts I talked to after the Ohio State workout weren't real pleased with the 4.95 40 time of Heyward. However, in my mind it's not a big deal. It's not like the guy is an edge/speed player. He's a power guy who is going to either play as a five technique in a 3-4 or a LDE in a 4-3 with three-technique potential. Honestly, that's about what I thought he would run anyway.
OLB Mason Foster: Washington (6-2, 245)
Foster didn't "wow" anyone with his 4.7 40 time. However, what I love was his 4.42-second short shuttle. Foster has the ability to cleanly change directions, generates a burst for himself out of the breaks and gets back up to speed quickly, a better attribute in my mind than overall straight-line speed at linebacker.
OT Tyron Smith: Southern Cal (6-5, 310)
If there is a more physically impressive looking tackle in the draft, I would like to see him. Smith displays little body fat on his frame for a guy at his size, possesses a ridiculous 85-inch wingspan and ran in the sub 5.0-second range. He also jumped 29 inches on his vertical, 9-feet-one-inch on his broad and pounded out 31 reps on the bench even with his 36 3/8 inch arms. Quite a day for the Southern Cal offensive lineman who now looks like a distinct possibility for the top ten.