April 30, 2011 -
National Football Post
Sixth Round Value Picks
Here's a look at three of my favorite picks from round six…
Philadelphia Eagles: OLB Brian Rolle (Selection #193)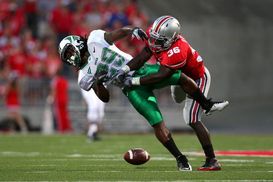 ICONLinebacker Brian Rolle is headed to Philadelphia.
If Brian Rolle was three inches taller and ten pounds heavier, he likely would have gone within the top 50 picks. He's tough, instinctive, finds the football and plays the game with a mean streak. However, Rolle lacks ideal size and will likely be more of a nickel backer in the Eagles 43 front, but he holds up very well in space vs. the pass game and should mature into a quality special teams guy as well.
4:43 PM
Arizona Cardinals: DL David Carter (Selection #184)
I really took a liking to Carter at this year's East/West Shrine game. He's a long kid at 6-6, 300+ pounds and displays natural athleticism when asked to fend off blocks and rush the passer. He'll be asked to play the five-technique in Arizona, but has the length, anchor and coordination to consistently set the edge on run downs. Carter also adds some value as a pass rusher inside in nickel situations.
Baltimore Ravens: QB Tyrod Taylor: Virginia Tech (Selection #180)
The Ravens needed to find a better option to play behind QB Joe Flacco and I think Taylor can be that guy. He's a gifted athlete who can create second lives in the pocket and be a threat in space. He's also come a long way as a passer and in my mind has a lot of Seneca Wallace to his game. Looks like a long-term NFL reserve who can also be used in trick play situations in both the run and pass game.
Follow me on Twitter: @WesBunting