June 30, 2014 -
Greg Gabriel
Team preview: Carolina Panthers
Last year at this time, Panthers head coach Ron Rivera was on the hot seat. The team had a new general manager in Dave Gettleman and the franchise had won a total of 13 games over the previous two seasons. There was no doubt about it: Rivera and the Panthers had to win.
Not only did Carolina succeed, they won the division and Rivera was awarded a contract extension. But as improved as the Panthers were in 2013, they still have problems going forward. Salary cap wise, they were not in good shape and Gettleman had to make some tough decisions. There were veteran players who were productive a year ago that are no longer with the team.
With a fairly big turnover in roster positions, the Panthers might not look as strong on paper as they did a year ago, but this is still a strong team that will again challenge for the division title. I think that the Panthers are probably a year away from competing for the conference championship, but they are definitely moving in the right direction.
Quarterback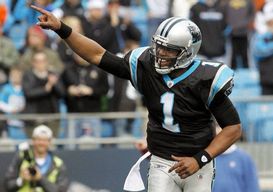 Newton is coming off his best professional campaign.
As Cam Newton goes, so go the Panthers. In Newton's first two years he was inconsistent like many young quarterbacks. When former offensive coordinator Rob Chudzinski left to become head coach of the Browns, it turned out to be addition by subtraction. Mike Shula was promoted to offensive coordinator and he changed the offense to play to Newton's strengths. The results were that Newton played his best football as a pro and was voted to the Pro Bowl.
Going forward, Newton will only get better and the sky is the limit as to how good he can become.
Like many NFL clubs, the Panthers don't have a lot behind Newton. Veterans Derek Anderson and Joe Webb are complementary, but neither is going to scare an opponent. The player to keep an eye on is free agent Matt Blanchard. He was on the Bears' practice squad in 2012 and looked as if he was going to make their team last year. Blanchard got injured late in training camp and the Bears were forced to cut him. Blanchard is very smart, has good arm strength and has enough athleticism to keep plays alive with his feet.
Receivers and tight ends
The 2014 receiving unit does not resemble the group the Panthers had in 2013. Gone are Steve Smith, Brandon LaFell, Ted Ginn and Domenik Hixon. That group is replaced by Jason Avant, Jerricho Cotchery, Marvin McNutt, Tiquan Underwood and first round pick Kelvin Benjamin.
In Avant and Cotchery, the Panthers have two veterans who are excellent route runners with great hands. Benjamin has rare size, can run and is strong after the catch, but he is raw. He still had two years of college eligibility remaining. Underwood is the speed guy who can get deep and McNutt is similar to Avant and Cotchery, but not as advanced.
The tight end group is led by Greg Olsen who is one of the better "move" tight ends in the NFL. Olsen led the Panthers in receptions a year ago with 73 and that number should go up this year. The other tight end could possibly be former Raven Ed Dickson, who is talented, but disappointed in Baltimore.
Don't be surprised if the Panthers add some receivers during training camp as veterans become available.
Running backs
At 31, DeAngelo Williams is still the lead back who ran for over 800 yards in 2013. Behind him is fullback/running back Mike Tolbert who was a Pro Bowler last year. Seven-year vet Jonathan Stewart has been injury prone and isn't what he once was.
The player who could surprise is sixth-round pick Tyler Gaffney. Gaffney was ultra-productive at Stanford a year ago, running for over 1,700 yards and catching 15 passes. He is a very physical player who I feel will work into the running back rotation.
Offensive line
Long time left tackle Jordan Gross retired during the off-season, which left a huge hole in the Panthers' line to fill. Going into camp, I don't think the Panthers are totally set on how they will line up across the offensive line.
The tackles will most likely be Byron Bell and Nate Chandler. Right now it looks as if Bell will be on the right side with Chandler on the left, but that could change. One of the guards will be second-round draft choice Trai Turner. Turner (from LSU) is big and athletic and should become a very good NFL guard. The other guard will be either Amini Silatolu or Chris Scott, with Silatolu having the advantage.
At center, the Panthers have one of the best in the NFL in Ryan Kalil, who has been to four Pro Bowls. A player to watch in training camp is second-year man Edmund Kugbila. Kugbila's development as a rookie was slowed by injuries, but he is an intriguing prospect with excellent size.
Defensive line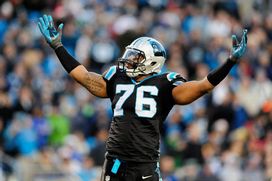 Will Hardy be available for the start of the regular season?
This unit is the strength of the Carolina defense. A year ago, the Panthers first two picks in the draft were defensive linemen Star Lotulelei and Kawann Short. Both played very well as rookies and will be even better in 2014. The third member of the inside rotation is Dwan Edwards. The three complement each other very well.
At the end positions are Greg Hardy and Charles Johnson. Hardy has become one of the most feared pass rushers in the league and Johnson, with his non-stop motor, makes a lot of plays. In reserve is second-round pick Kony Ealy, who was one of the better pass rushers in the SEC last year. Mario Addison and former CFL star Alex Hall add depth. Hall had 15 sacks in the CFL a year ago.
Greg Hardy had an off-field issue earlier this spring and the results of that case could mean he misses some games due to a league suspension. It's still too early in the case to get any idea of what the result will be.
Linebackers
Going into his third year, Luke Kuechly is one of the top Mike linebackers in football. Few have his combination of instincts, speed, intensity, and playmaking ability. In short, Kuechly runs the defense.
One of the outside linebackers will be Thomas Davis, who is entering his tenth season. Davis is rare in that he has survived three ACL surgeries to his right knee. His play in 2013 was excellent. The other outside linebacker will probably be Chase Blackburn, who started seven games a year ago. He could be challenged by second-year player A.J. Klein, who flashed as a rookie.
Secondary
Like the receiver and offensive line groups, the secondary is unsettled going into training camp. One of the corners looks to be Antoine Cason, who was with Arizona a year ago and played for Rivera in San Diego. The other corner will probably be second-year man Melvin White. White was an undrafted free agent a year ago, but went on to start 10 games. For depth there is Josh Norman and Charles Godfrey, who missed most of last season with an Achilles injury.
At safety, newcomer Thomas DeCoud will line up at free. Decoud is a former Pro Bowler who struggled last year in Atlanta, but the Panthers are hoping he reverts back to 2012 form. The strong safety is former Saint Roman Harper. Rookie Tre Boston from North Carolina also has to figure in the mix.
Outlook
< p> As I said earlier, this team is not as strong on paper as it was a year ago. There are a lot of unanswered questions going into camp at various positions.
One thing I do know is that the Panthers have an excellent coaching staff and they will get the most out of every player. While Carolina may not repeat as division champs, they will challenge for a wild card playoff spot.
Follow Greg on Twitter: @greggabe