September 30, 2010 -
National Football Post
Thursday night primer
A look at some key matchups, players and things NFL scouts will be watching for on Thursday night.
Texas A&M vs. Oklahoma State
7:30 p.m. EST, ESPN
What to watch for…
Offensive superstars come to shine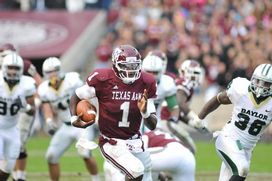 ICONJohnson is a dual threat run/pass option.
QB Jerrod Johnson: Texas A&M (6-4, 243)
It's not often you find a quarterback with the overall physical/athletic skill set of a guy like Johnson. He's a big, strapping athlete who has the kind of arm needed to make all the throws, plus he knows how to buy time in the pocket, break contain and create with his legs. However, it will be interesting to see how he responds in this one, coming off a brutal 11 for 31 passing day last week vs. Florida International, mustering up only 194 yards through the air and throwing four picks. Now, Johnson has come a long way as a pocket passer since head coach Mike Sherman took over. But, the two biggest question marks I still have are…
1. His overall mechanics, as he still has a bit of a lethargic/winding throwing motion and isn't real clean or sharp with his footwork.
2. He still struggles to quickly diagnose defenses and diligently go through his progressions, especially vs. a faster moving defense (i.e. Florida International).
So the biggest thing for Johnson at this stage is to just continue his improvement toward becoming a better pro caliber quarterback. The talent and skill set is there and he has shown the willingness to get better, but he just still has a ways to go. As of now, he looks more like an intriguing developmental guy to me who is going to need a lot of time to compete in an NFL pass game.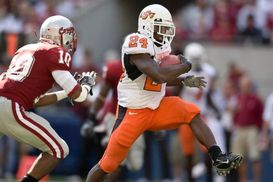 ICONHunter has the ability to be dynamic in the open field.
RB Kendall Hunter: Oklahoma State (5-8, 200)
Hunter is back in a big way in 2010 with 473 yards rushing in only three games, putting him on pace to rush for 1,892 yards on the year. Now, as an NFL prospect, he is a bit undersized, but what he has going for him is that he runs with a low pad level, does a nice job not exposing his frame to many big hits and possesses an impressive feel in tight quarters. Plus, the guy can be dynamic in the open field, showcasing the ability to routinely make a defender miss in a phone booth and accelerate into daylight.
Now, he was banged up for a lot of the 2009 season and being able to stay healthy is a bit of concern with him. However, watching the way this guy can catch the football out of the backfield, change directions/speeds in an instant and create just about every time he gets the football, he seems like a great change-of-pace back at the next level who can handle a similar role as Lions first-round pick RB Jahvid Best.
Is Von Miller ready to go?
Coming into the year I thought Miller had the makings of becoming the nation's top pure pass rusher because of his combination of initial burst, developing lateral quickness and ability to bend around the edge. However, with only six tackles and zero sacks through the first three games of the year, this is not the Von Miller many expected.
But, he has been forced to play through a gimpy ankle, which has really taken away from his effectiveness in all areas of his game. However, he's a guy who is going to regain his burst and when he gives his ankle enough time to heal we will see the Miller of 2009 again. Therefore, tonight, even if he's not 100 percent healthy, I just want to see how this guy is able to deal with the pain. He's already proven to have a passion for the game by not shutting it down in order to take care of his body in anticipation of the next level. But I just want to see what kind of a fighter this kid is, knowing he doesn't have his "A-game", is he willing to go out and compete snap after snap, which is big for NFL pass rushers.
A defensive lineman who won't be feeling sorry
Finally, one guy who really caught my eye on tape this summer was Texas A&M defensive lineman Lucas Patterson. He's a tall, 6-4, 295 pound kid who plays with good bend for his size, uses his hands well and knows how to fight off blocks inside. He isn't the most explosive of options off the snap, but he possesses a solid first step, has a motor that runs nonstop and consistently is able to find the football quickly. Now, I only saw one tape on him this summer and am looking forward to watching his game again, because Patterson has experience playing both the three and nose spots inside, but I think his true calling card could be as a potential five-technique DE in a 3-4 scheme in the NFL.
Others worth watching…
Texas A&M
OL Matt Allen: No. 70 (6-2, 294)
He's undersized and really struggles to stick to blocks.
MLB Michael Hodges: No. 37 (6-0, 226)
Lacks great size, is stiff in space and simply doesn't offer much in either the run or pass game.
Oklahoma State
FB Bryant Ward: No. 37 (5-11, 223)
Is a bit undersized for the fullback position and doesn't deliver much power on contact. Isn't on the field for any perimeter runs and just looks like a try hard guy who made it work in college, but won't be able to in the pros.
LB Justin Gent: No. 42 (6-1, 236)
He isn't a real gifted athlete and his lacking instincts really compound the issue, keeping him from making many plays on the football.
LB Tolu Moala: No. 59 (6-0, 230)
It's obvious this guy has a fire in his belly and really craves contact. However, he's a limited athlete who's really tight hipped and just doesn't offer much as an NFL prospect.
DE Ugo Chinasa: No. 91 (6-5, 260)
He's tall, long and lean, but doesn't have any kind of real explosive element to his game. He isn't powerful on contact, lacks a great first step off the line and doesn't have any real suddenness as a pass rusher. Plays too high in all areas of the game and reminds me a lot of 2010 defensive end prospect Lindsey Witten.
NFL draft/college football questions? Get them answered at Wes.Bunting@nationalfootballpost.com
Follow me on Twitter: @WesBunting
Click here to win cash today playing fantasy football with the NFP and FanDuel.