March 31, 2013 -
Dan Pompei
NFP Sunday Blitz
It is fair to wonder how Alex Smith will perform without Jim Harbaugh on the other end of his strings.
After all, the new Chiefs quarterback had a 95.1 passer rating with Harbaugh as his coach compared to 72.1 for the previous six years of his career, according to STATS.
And it also is fair to wonder why Smith cannot continue to perform under Andy Reid as he did under Harbaugh. The first thing to be understood about Smith is he is gifted. Very gifted.
So gifted in fact that most of the NFL agreed he should be picked ahead of Aaron Rodgers in 2004. So gifted that he was the first pick of the draft that year. So gifted that new Chiefs general manager John Dorsey had no qualms about giving up two second round picks in a trade with the 49ers to acquire him.
"He has the physical skill to push the ball down the field, the accuracy and ability to drive the medium routes and at times the ability to drive the long routes with accuracy," Dorsey told me. "He minimizes mistakes. He understands he can't turn the ball over."
So why haven't we always seen the talent with Smith? Why did the Niners try to replace him? There may be a ceiling in terms of how good he can be, but it also is possible, maybe even probable, that he has not yet reached it.
Things will be different for Alex Smith this year without Jim Harbaugh in his ear.
His development likely was slowed by the fact that he faced enormous expectations and pressure as the No. 1 pick of the draft. And he wasn't exactly surrounded by all pros for most of his career. He never had a Pro Bowl wide receiver or a receiver who gained 1,000 yards in a season. Among his leading wide receivers during his time in San Francisco were Brandon Lloyd, Antonio Bryant and Arnez Battle.
And then there was the coordinator issue. Before Harbaugh arrived, Smith played for six coordinators in five years—from Mike McCarthy to Norv Turner to Jim Hostler to Mike Martz to Jimmy Raye to Mike Johnson to Greg Roman. Every season for his first six seasons, he had to learn a new offense. He has had the same offensive coordinator in place for two full seasons only once in his NFL career.
"I think stability is an important thing for quarterbacks," Chiefs coach Andy Reid told me. "If you look at all the change that took place in that kid's NFL life early, that's a wild ride. Look at how many quarterbacks have been ruined going through that situation. He came out on top. That's a tribute to him."
When Smith was paired with Harbaugh, there were immediate results. Harbaugh refutes the notion it was about him though.
"These guys do it themselves or they don't do it themselves," Harbaugh told me. "Players in general, quarterbacks specifically. Standing here saying, 'Here is what I told them,' is shameless self promotion. It's such a small part of why they were really good. It's a little phony.
"He improved at playing his game, knowing how to be successful, going out every week and playing that ace of spades. He's a one of a kind guy, one of a kind person. He's extremely talented, extremely smart. He did the best job of just playing his game."
Dorsey sees it similarly. "It's far to say San Francisco has begun to have a lot of success the last couple of years," he said. "But in the beginning, Alex Smith had a lot to do with it. Jim Harbaugh is a good coach. That doesn't take anything away from what Alex did when he got on the field, or from what his teammates did."
There is another factor in this story too. It's not like Smith now is being coached by some meathead straight out of the Pee Wee League. When it comes to quarterback coaching, Andy Reid has some chops. Remember his work with Brett Favre? Donovan McNabb? Reid also was responsible for helping to turn backups A.J. Feeley and Kevin Kolb into tradable commodities.
"Andy does a great job of getting guy son board and coaching them up," Dorsey said.
Reid has studied what Harbaugh did with Smith. He'll do some of the same things. He said his system is not that much different from Harbaugh's.
"One of the keys as a coach is you play to a player's strength," he said. "You continue to try to improve things that he needs improving on, but heck, if they are good at something, you cut him loose and let him do it. We'll do that."
"The bottom line is you can't hide the fact that he's won games and he has a great quarterback rating, he's consistent."
It's up to Smith to prove he was more than the product of a great coach in San Francisco. The Chiefs are betting he'll do that.
My Sunday Best: Quarterbacks Acquired In Trades
Some of the greatest quarterbacks in the history of the game have been traded. Some, like Joe Montana, made their reputations before they were traded. Others, like Len Dawson, were traded but then released before hitting it big. I didn't include either of those great QBs. I was looking for quarterbacks who excelled with the teams that traded for them. Here are my Sunday best quarterbacks who paid off big after being traded. Do you think I missed someone? Let's hear it.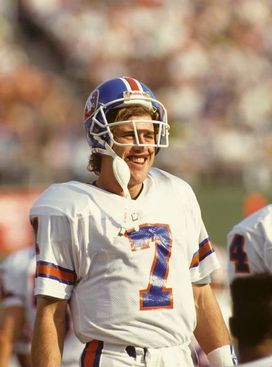 Trading for John Elway was one of the best moves in NFL history.
1. John Elway, Broncos 1983. The first pick in the draft, Elway wanted nothing to do with playing for the Baltimore Colts and forced them to deal him to the Broncos. Some rank him as the best quarterback of all-time. He certainly was one of the greatest clutch performers in NFL history. His 148-82-1 record as a starter is one of the best ever. Here is the bonus part of the Elway acquisition: he's still paying dividends for the team at the age of 52 as he is quickly becoming one of the most respected executives in the game.
2. Brett Favre, Packers 1992. He became a three-time MVP, eight time division winner, 11 time Pro Bowler and one time Super Bowl winner after the Falcons gave up on him and Ron Wolf offered a first round pick. He played 16 seasons for the Packers and started 297 straight games, a record that might never be broken.
3. Steve Young, 49ers, 1987. The Bucs chose Vinny Testaverde and gave Young to the 49ers for second and fourth round picks. Thirteen years, seven Pro Bowls and three Super Bowl rings later, Young was on his way to the Hall of Fame. His 96.8 passer rating is second best all-time.
4. Bobby Layne, Lions 1950. This hall of famer was traded three times, first from the Bears to the New York Bulldogs for a first round pick and $50,000, then to the Lions for defensive end Bob Mann, and finally to the Steelers for Earl Morrall, and probably first and second round picks (records are sketchy). He won two NFL championships for the Lions and made it to four Pro Bowls.
5. Fran Tarkenton, Vikings 1972. He actually was traded twice, in 1967 from the Vikings to the Giants for two first round picks and two second round picks, and in 1972, back to the Vikings for Norm Snead, Bob Grim, Vince Clements, a first round pick and a second round pick. On his second stint with the Vikings, he went to three Pro Bowls, was named NFL MVP in 1975, and made it to three Super Bowls.
6. Sonny Jurgensen, Redskins 1964. The Eagles shipped him to their rivals after Jurgensen had been their starter for only three seasons, getting Norm Snead and Claude Crabb in return. In Washington, Jurgensen won three passing titles, inspiring Vince Lombardi to call him the greatest passer he had seen.
7. Eli Manning, Giants 2004. He has become a great clutch quarterback and two-time Super Bowl winner. Ernie Accorsi pulled the trigger on a draft day deal with the Chargers, giving up Philip Rivers, who had been chosen thre picks later, a third round pick and two fifth rounders.
8. Philip Rivers, Chargers 2004. Yes, the Chargers came out alright in this deal too. Rivers has been to four Pro Bowls and he has a career passer rating of 94.5, which is sixth highest in history.
Things I Didn't Used To Know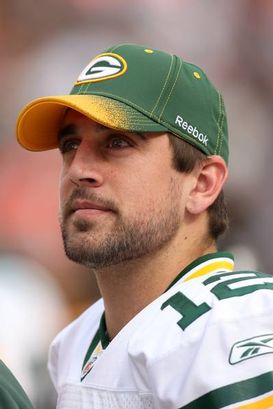 ICONAaron Rodgers is changing his workout routine as his body changes.
*Aaron Rodgers is changing up his offseason workout routine. The Packers quarterback