August 31, 2011 -
Barry Dorey
Access Granted
After completing a contract for one of my free agents this year, I told the GM that I was going to release the news of the signing the following morning. He then asked me if I wouldn't mind coordinating the timing of it with his team's website. I said sure no problem. However, I was taken aback by the request because this particular GM can't stand the media and I was surprised he thought about them at all as busy as things were during free agency.
Historically, front office types have been tight-lipped about any proprietary team information. If they did give a media person something worthy of print it was usually "off the record". However, I have witnessed more, and even longer interviews, more access and even more interaction between the NFL brass and the media.
So why the change? Why are GM's and coaches becoming more accessible and open? As one NFC GM put it to me; "my owner wants us (he and the head coach) to be more engaging and thoughtful to our fans and include our PR department in most all that we do."
Another reason is that teams know that most information is going to get out anyway so why not control it themselves instead of reacting to it. The media has grown tremendously and the competition for information is downright fierce. The days are over where one or two beat writers had a monopoly on information. Furthermore, PR people and digital executives in charge of running team websites became very frustrated when they were the last to know their own team's signings, cuts, injuries and firings. They eventually persuaded ownership/management to get the football operations side to talk with them.
An interesting dynamic that is common in NFL front offices is that the typical young PR person is scared to death to ask the head coach or GM anything, especially after a loss. However, now I am seeing more coordination between the two offices.
The bottom line is that each and every NFL digital property is seen as a profit center and more owners are leveraging their assets and employees to help make it so.
Even though there is more openness, there are still several old school GM's that prefer to stay in their bunker. For example, as successful and outgoing as Saints GM Mickey Loomis is, he is one who prefers to keep a low profile.
On the other hand, Falcons Thomas Dimitroff who came from the super secretive Patriots, (aka the Kremlin), is engaging and loves talking openly about the science of football, especially scouting.
AJ Smith of the Chargers remains the strong silent type and prefers to keep his opinions to himself. If he can't say what he really thinks, he will say nothing at all.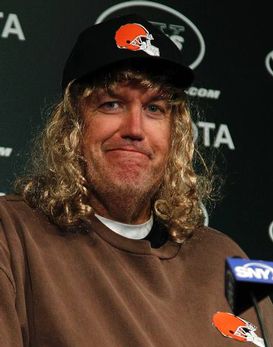 ICONRex Ryan never fails to entertain the media with his antics.
Pete Carroll, Rex Ryan, Jim Harbaugh, and Sean Peyton are a new breed of coaches that have an open and even fun relationship with the media. I've even noticed a more tolerant and engaging Bill Belichick this year. Belichick even opened up enough to be featured on an NFL Network documentary focusing on his on and off-field football life.
Mike Florio at PFT has done an unprecedented job of getting just about every head coach and GM on his show this year to talk about their respective clubs.
The media scoop jockeys have relied heavily and sometimes solely on the agents for their intell. Many of them still do. I think teams got tired of seeing their sensitive information getting out from the agents' side and simply said, "lets take control of it".
There is still a lot of intell that never makes it out. The Patriots, Giants, Bills, Ravens, Colts, Steelers, and Raiders are still notoriously secretive and are known to not be media friendly.
With all the media partnerships the NFL has going right now, I'm sure it behooves them to open the doors and let the fans in. Either that or the media just wore them down to the point they gave up.
Follow me on Twitter: @jackbechta