February 29, 2012 -
Jack Bechta
Is it time to rethink the Combine?
The 2012 Combine marked my twenty-fifth visit to Indy but the very first time I heard scouts, GMs and coaches talk about overhauling the process. And as a side note, it's also the first time I've ever had a client injured at the Combine. OL Markus Zusevics tore a pectoral ligament on the sixth rep of his bench press test. Markus will be fully recovered in 4 or 5 months and the injury will not affect his career. His injury will not affect my philosophy of encouraging my future clients to work out each year in Indy.
I do however, believe the Combine has some archaic components that can use some change. For one, the entire process creates duress and stress for the players in attendance. There is a lot of hurry up and wait, standing around, and the players usually don't know what's next. Secondly, the players must get up very early and get to bed very late. All players suffer from a lack of sleep. This process in no way emulates a game week or even a camp week.
One of the biggest complaints I heard from one veteran AFC Head Coach is that the league is trying to turn the Combine into an entertainment piece. The stadium is no longer a sanctuary for evaluation. I share his concern.
Here are some of the good and bad ideas I heard this week:
AFC Head Coach: "I'm tired of watching guys take 10 minutes to warm up to run a forty. Just line them all up side-by-side by position in two groups and let them race it out on the sound of a whistle, just like the snap of the ball. Each lane will have a clock and it's a better emulation a game situation." My Take: Good for TV but players won't do it.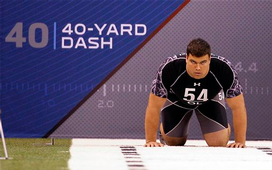 Does anyone really evaluate O-Linemen on their 40 times?
A GM of an NFC team said he would like to "see DB's and LB's covering WR's, RB's and TE's. They do it at the all-star games, why can't they do it here?" Good idea!
AFC O-line coach: He doesn't understand why any NFL lineman should run a 40-yard dash for time. (More linemen tweak their hamstrings preparing for this test than anything they do). He also said the mirror drill (when they put their hands behind their backs) is worthless. He wants more game-type functional movement drills. I agree!
An NFC director of scouting said he would like to "see more functional position movement drills. Some of the drills work for some positions but we need more position specific movements that truly emulate game situations. When a guy has been practicing the same drill for six to eight weeks he's probably going to do it well. Why not change the drills each year so the players don't know what to expect just like they may see at their pro days." Decent idea!
CONTINUE READING ON PAGE 2