August 31, 2010 -
Greg Gabriel
High picks often overlooked on recruiting path
While I was the scouting director for the Bears, one of the things I did was research a prospect who was coming out of high school and entering college. I wanted to know if he was a highly recruited player and if so, who else recruited him and why he chose the school he did. What I found out was there are many high draft choices in the NFL who were not elite 4- and 5-star prospects when they were in high school. In fact, there are many 2- and 3-star high school players who end up first- and second-round draft picks.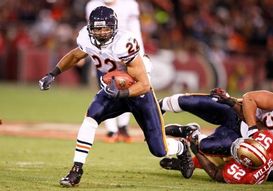 ICONBears RB Matt Forte was lightly recruited out of high school.
Two players who come to mind on the Bears are Matt Forte and Chris Williams. Forte was lightly recruited out of high school. He was rated a 2-star player, yet he had a great career at Tulane and became a second-round pick. In his first two years in the league, he has run for over 2,100 yards and caught 120 passes. Chris Williams, one of the starting tackles, was also lightly recruited. He came from Baton Rouge, Louisiana, yet was not recruited by LSU. He also had a 2- star rating. He became an all-SEC player at Vanderbilt and a first-round pick.
One of the best stories is Arizona Cardinals defensive back Dominique Rodgers–Cromartie. He didn't even rate one star when he came out of high school. He was not recruited by the top schools and went to Tennessee State. Yet, four years later, he was the 16th pick in the first round and has become an All Pro player.
In last April's draft, of the 32 players drafted in the first round, 12 players were rated 3 stars or less coming out of high school. Of those, Devin McCourty, Kyle Wilson, Sean Weatherspoon, Jerry Hughes and Michael Iupati were only 2-star players. Two of the top four picks were 3-star players. That includes first overall pick quarterback Sam Bradford and fourth pick offensive tackle Trent Williams.
I also found that there are many 4- and 5-star players that NFL teams never scout. They don't become prospects. They were simply overrated coming out of high school. On an average year, some of the big name schools have 6 or 7 NFL prospects. When you go back four years and look at their recruiting class, you see that they may have signed 22 to 25 players and about 70 percent were of the 4- or 5-star variety.
That's not to say that all NFL draft choices weren't athletes in high school. In the last draft, 20 first-round picks were rated as 4- or 5-star players. Three (Tim Tebow, C.J. Spiller and Eric Berry) had a 5-star rating. Sam Young, an offensive tackle from Notre Dame, was also a 5-star player and he was drafted in the 6th round.
What does this mean for the college football fan? It means don't put too much stock in the recruiting ratings each year. Your school may sign 10 to 12 4-star players next February, but how many of those guys are really good football players? Two schools who in the last few years have been perennial top 20 teams rarely get any 4-star prospects — Boise State and TCU. Both schools get a number of players drafted, yet you seldom see their recruiting list have much more than 2-star athletes. Is it great coaching by those schools or are the recruiting grades out of whack? I would think a little of both.
What do you think?
Click here to purchase the Total Access Pass/Fantasy Draft Guide from the NFP.