June 30, 2012 -
Greg Gabriel
Luck or Griffin? A scout's take
Yesterday my friend and colleague Joe Fortenbaugh wrote a very interesting post on who has the better value as a fantasy football player this year: Andrew Luck or Robert Griffin III. I know nothing about fantasy football and have never been involved in a fantasy league but many of my friends and stepchildren have. My stepson Nolan is in a few different leagues. Because of my lack of knowledge about fantasy football I am probably the last person to ask about whom to draft or not to draft. With that being said, I do have an opinion as to who will be the better pro player both this year and in the future.
If you go back to some of my pre-draft posts, I'm on record as saying that I feel that Andrew Luck is the best NFL quarterback prospect since Peyton Manning. My reasoning was not only on how he played the game but also on how he prepared himself to play.
Luck's football character is second to none. He has a strong desire to be great, is a tireless and relentless worker and is a natural leader. On top of that, he played three years in a difficult pro-style offensive system that did a great job preparing him for NFL play.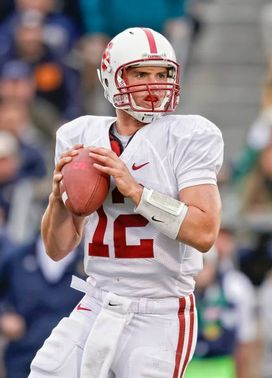 ICONAndrew Luck was the top pick of the Colts in this past April's draft.
I also felt and still feel that RGIII has tremendous talent and will also be a top NFL quarterback. While he will have a larger learning curve having come from a simple spread offense, he has the aptitude, athleticism and quarterback skills to excel at the next level. Like Luck he has outstanding character.
I have already written about the strengths and weaknesses of their "games" so I will not rewrite that now. But I can write about their future.
At this time, with Washington having a veteran head coach with a history of developing quarterbacks and a better offensive supporting cast I feel Griffin will play well in 2012. The Colts on the other hand have had a lot of turnover in personnel and have a rookie head coach as well as a conservative offensive coordinator in Bruce Arians
I expect Griffin to put up better numbers in 2012 but that doesn't mean that he will be the better player. Don't expect either player to have the kind of stats that Cam Newton had last year. I would expect numbers more similar to what Andy Dalton had in Cincinnati. It may be 3-5 years before we know who the better player is and a lot will depend on which team does a better job getting players to surround Luck and Griffin.
One thing Bill Pollian did was find the right players to make the Colts offense work for Manning. They developed a system and stuck to that system and drafted players that were "fits" and could make the offense better. If Washington and Indianapolis want Griffin and Luck to reach their "ceiling" as players they have to do the same thing. Without a strong supporting cast both players could struggle.
The bottom line in determining who will be the better player is which player does a better job leading his team first to the playoffs and then division and conference championships. I have no doubt that both players will be excellent NFL quarterbacks but it remains to be seen who leads their team to better playoff success. At this time my money would be on Luck and only because of how he has prepared himself for an NFL career.