November 30, 2011 -
Barry Dorey
NFP Week 12 Rookie Report: Titans
One of the clubs I haven't had a chance to see until this past weekend is the Tennessee Titans. Under a new coaching staff they are having a good season and with five games to go are in position to earn a wild card berth, but they may have to win four out of those five to solidify the berth.
Like they have in the past, the Titans play good defense and they have three rookies starting on that side of the ball. We will take a look at each of the three.
Colin McCarthy
McCarthy is starting at the Mike linebacker position because of an injury to Barrett Ruud. McCarthy had a strong game versus Tampa Bay and will not give back the job easily. He led the Titans in tackles on Sunday with 10 and also had a late game interception. McCarthy doesn't have great size at 6-1 and 236 pounds but he is an aggressive instinctive player who seems to always be around the ball. The main fault I saw in his game is that because of his short arms he can be slow to shed blocks but in saying that he seems to find a way to elude or slip blocks to make plays. He's a natural knee bender and an explosive hitter and you won't see him miss many tackles. In coverage he is able to get depth with his drops, has good receiver awareness and can plant and drive quickly to close on the ball. Overall, I was impressed with his play and he earns an "A-" for the game.
Akeem Ayers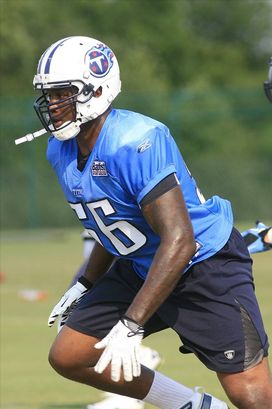 ICONAkeem Ayers starts at Sam linebacker for the Titans.
Ayers starts at the Sam linebacker position and is a very effective player for the Titans. He has excellent size and though he didn't time fast last spring, he plays fast. He has very good instincts and is a playmaker. Going into the draft, I thought that one of his strengths was as a pass rusher; he had natural bend, good hand use and a burst. In Sunday's game, they didn't use him that much in that role, but when he did blitz he was effective. He does a good job keeping blockers off his body and utilizes counter moves well.
In many places, starting rookie linebackers are usually 1st and 2nd down players and come out in passing situations. This is not the case with Ayers. He plays every down and shows good coverage skills. The only time I saw him beat was early in the game he was a bit late picking up a crossing tight end and gave up about a 10-yard play. Other than that, he showed good awareness in coverage. He is excellent as a run support player. He is strong at the point and can either shed quickly or elude blocks to get to the ball. He had 8 total tackles on Sunday including 1 tackle for a loss. He is an excellent pursuit player who consistently takes good angles to the ball. Overall, Ayers looks like a complete player being able to defend the run, drop into coverage and rush the passer. As a rookie he is already one of the better players on the Titans defense. He earns an "A."
Jurrell Casey
Casey starts at defensive tackle and plays in a rotation. He often comes out in obvious passing situations. He is a short, thick player with good arm length and excellent strength and power. What he does best is occupy blockers and defend the run. He has good snap reaction and a quick first step to get penetration. He more than holds his own versus double teams and seldom gets knocked off the line. He has the quickness to split double teams and be disruptive. On one play he shed a guard's block quickly and made an excellent lateral move to stop the back for a loss. When he does rush the passer, he doesn't show a lot of moves but he uses his power effectively to get a push. I had him down for 1 pressure in the game as well as 5 tackles. While he is not a very fast guy, he still shows excellent hustle to pursue plays away from him. Overall, I felt he had a strong game. Tennessee utilizes his strengths so that he can be effective. He earns a "B+."
Tommie Campbell
Campbell is a backup defensive back who has become a solid special teams player. On a kickoff return he took the ball from Marc Marriani on a reverse and returned it 84 yards for a touchdown. He also showed good blocking and coverage skills before injuring his arm or shoulder. He did not return after the injury.