December 31, 2010 -
Greg Gabriel
Scouting the bowl games
Many scouting departments treat Bowl games and All-Star games differently than they do regular season college football games. There is also a difference as to how the Bowl games and All-Star games are approached. Today, we will talk about the Bowl games.
A Bowl game is a reward to a good season, but depending on when the game is played there may be a down period before preparations begin. If the game is played late in December or early January and the last regular season game was mid-November, then the school could have up to six weeks between games. All that time is not practice time. The players usually have a few weeks "off" before they get back into the practice routine. During the season practices are usually limited to game preparation. There is not time for much technique teaching, etc. That's totally different during bowl preparation.
Coaches like to treat the early bowl practices much like an "additional" spring practice season. Because of this there is much more work on fundamentals. If the schools have these practices "open" to scouts they can be very valuable in a scout's evaluation because he sees so much more than what he sees during a regular season visit. The early bowl practices can be very physical so a scout gets a chance to see much more "live" work. He also may have an opportunity to speak with some of the coaches or support people that he didn't talk to when he made a school visit. The more people a scout gets to talk to the better his evaluation.
As for attending and scouting during the bowl games themselves, that's a whole different "ballgame" and it really depends on the luck of the draw. Because there is so much media at these games, space is limited for scouts. There may be only 6 or 7 seats in the press box available to scouts. To make things fair, the league holds a lottery to fairly distribute the seats that are available. To further make things fair, the league groups the games into four categories — basically weighting the games. The top games such as the BCS Bowl games are "A" level games, games like the Holiday Bowl may be "B" level games, the Independence Bowl may be a "C" level game and so on. When the lottery is over a club may end up with passes to about five games — usually one "A" game, one "B" game and usually three passes to various "C" and "D" games.
The lottery is held in the beginning of December so scouting departments have a lot of time to prepare on how they will scout the games. After the lottery is over there is a lot of "trading" of passes that goes on. This happens because you may have "won" a pass to a game that you have absolutely no interest in but there may be a team or teams that have interest in that particular game. So in the days following the lottery your e-mail box gets flooded with trade requests such as "We have an Orange Bowl pass available to anyone who may have an Outback Bowl pass to give in return." This trading period usually goes on for about a week, so in the end you get passes to games that you have at least a mild interest in attending. If you don't have a pass to a game, viewing a practice or practices may be more beneficial.
The media and the public are all interested in the school matchups but scouts are interested only in seeing prospects. For instance, the BCS national championship game between Auburn and Oregon should be a great game to view for most, but if you are an NFL scout and neither school has a player or players that a scout has interest in then the game has no value to the scout.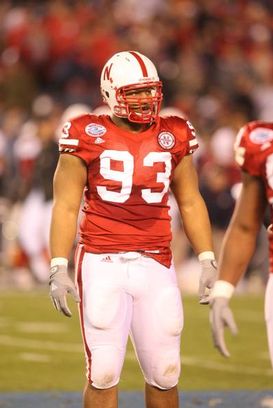 ICONNdamukong Suh played perhaps the best game of his career in the Big 12 championship game last season.
From a scouting perspective these games are important because you want to see how a player responds to playing in a big game. If you are lucky there may be some interesting matchups in the game — perhaps a highly rated offensive lineman against a highly rated defensive lineman or maybe a top receiver versus a top corner. There is the old clich