January 31, 2012 -
Greg Gabriel
Who is Phil Emery?
Just like a few weeks ago when the Indianapolis Colts named Ryan Grigson as their new general manager, the Chicago Bears have named a person who may not be well known as far as the media goes, but in the scouting world he carries a big name.
Phil Emery is an excellent choice to lead the Bears. He has been a scout and a Scouting Director in the NFL since 1998. He started with the Bears in 1998 and worked there until after the 2004 Draft when he was hired by Atlanta to be the Director of College Scouting under general manager Rich McKay. He then went to Kansas City as the College Scouting Director under Scott Pioli.
In his years in the league he has been able to learn the philosophies of Mark Hatley, Rich McKay, Jerry Angelo and of course Pioli, who formed his philosophy working in New England with Bill Belichick. That afforded him the opportunity to learn from some fairly good football people.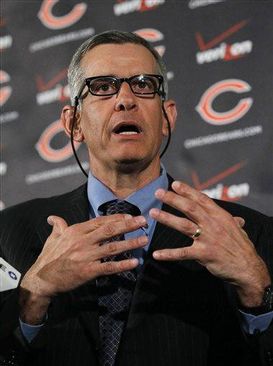 Phil Emery has been a scout and a Scouting Director in the NFL since 1998.
Before becoming a scout, Emery was a strength coach at the Naval Academy for seven years and before that he was the strength coach at Tennessee. While a strength coach, Emery was known as a coach who was very scientific and innovative in his approach and the results were awesome. At Navy you don't get 4 and 5 star recruits to work with, you get special people who are there preparing to serve their country and not make millions as a pro. Emery was able to help develop these kids into players who would compete from beginning to end. With scouting his approach was much the same way.
When I came to Chicago in 2001 I was lucky enough to have Phil work with me as one of my area scouts. Phil's area of responsibility was the southeast, easily the most productive area in the country. In the three years Phil worked with me we drafted nine players from his area, many if which had very good careers with the Bears. The players included defensive end Alex Brown, quarterback Rex Grossman, guard Terrance Metcalf, defensive tackle Ian Scott and running back/special teams player Adrian Peterson. While none of these players attained Pro Bowl status they all played an integral part in our success. Not only did he provide excellent information on players we drafted, but he also helped us make difficult decisions on players we didn't draft.
One thing I learned quickly about him was that he was a tireless worker. He left no stone unturned. He quickly grasped our system and gave us pertinent information and more. He knows how to find talent. There are many scouts who can grade tape and tell you if a prospect can play, but few do the in-depth work needed to find out about the intangibles and football character. I have written about football character before and it's not the same as personal character. A prospect could be the greatest kid in the world but if he doesn't possess great football character he will bust. Emery was and is excellent at differentiating between the two and finding players who will excel.
I found Phil to be the leader of our scouts and he was highly respected by all his associates. He had two different nicknames that I know of, one was he was referred to by the other Bears scouts as "Doc." This name came about because of the attention to detail that Phil paid to every assignment given. His other nickname was "Satan." This nickname was given to him by some midshipmen who found Phil waiting for them at 5:30 a.m. for workouts during a snow storm. As the story goes, the Annapolis area was hit by a severe late winter storm. It was so severe that the Academy basically shut down and classes were canceled, something that rarely happens at the Naval Academy. Storm or not Phil felt an obligation to be at the training facility at the prescribed time. Emery lived close to 40 miles from the Academy so he left plenty early to be there on time. The midshipmen, thinking that there was no way Emery would be there, sent a couple of "scouts" to see if in fact the weight room was open. What they found was Emery sitting in his car having a cup of coffee waiting for his players. When they saw Phil waiting, they quickly informed the others that "Satan" was indeed there, the storm didn't stop him! That's being a leader. You don't let obstacles hold you back.
Having worked with Phil for the better part of three years, I have a tremendous amount of respect for him. When I saw the list of candidates the Bears were going to interview for the position, I knew he was by far the best choice. That's not to say the other candidates weren't well qualified -- they were -- it's just that Emery is the right man at the right time to take the Bears to a championship.
I have been in the scouting business for 30 years now and I know few who have the work ethic, character and talent of Phil Emery. In short, he "gets it." Bears CEO Ted Phillips did an excellent job in the search process. He found a group of well-qualified individuals and then picked the best man. I have heard and read some snide remarks in the Chicago media since the hiring of Emery and frankly they are baseless, unfounded and uneducated remarks. Many in the media wanted the Bears to hire the "big" name similar to the Chicago Cubs hiring Theo Epstein as GM. One thing I know holds true in football: the biggest name isn't always the best name. Phil Emery has spent a lifetime preparing for this situation and he will succeed.