October 04, 2020
Archived article is below – for current week NFL injury report, check out updates Wednesday through Sunday. 
Quarterbacks Ben Roethlisberger, Tyrod Taylor and now Marcus Mariota all have medial collateral ligament (MCL) injuries of the lead left knee. A handful of other players also suffered MCL sprains across the NFL on Sunday.
Of the four main knee ligaments, the MCL is most often injured. Located on the medial or inner side, it gives the knee stability from a valgus or "knock-knee" force. Fortunately, the MCL rarely if ever needs surgery as it heals reliably. More severe sprains may recover with some residual laxity but the knee functions well.
Big Ben reportedly suffered a grade 2 MCL sprain with a bone bruise in Week 3. This partial tear typically scars in enough to play by 2-4 weeks. After seeing the Steelers QB sans crutches in only four days (indicating the bone bruise is minor), I am on record saying Roethlisberger will play in October. The final chance to do so is next week versus the Chiefs. I still believe he will play but consideration can be given to making sure their star QB is protected from one of the league's best pass rushes.
Taylor suffered a milder version of a MCL sprain on a horse-collar tackle in Week 5. The Bills starter finished that game with adrenaline on board and before swelling occurred. Although Taylor was inactive this week, expect him to play next week.
Mariota was hit low on a play that head coach Ken Whisenhunt considered "B.S." and an attempt to injure. The Titans QB valiantly played on with a brace and a noticeable limp. By video, he too has a MCL sprain and will get a precautionary MRI.
Several others suffered MCL injuries this Sunday. Broncos first-round draft-pick Shane Ray sustained a higher grade sprain and is to miss 4-6 weeks. Bills defensive lineman Kyle Williams will miss the London game with what by video appears to be a 2-4 week MCL sprain. Packers WR Ty Montgomery was announced to have an ankle injury but high ankle and MCL sprains go in pairs when rolled up on from the outside. Steelers left tackle Kelvin Beachum was not so lucky. In addition to his MCL, the ACL is also torn and his season is over with pending surgery.
There are different degrees of injury, but overall, if one has to sprain a knee ligament, the MCL is arguably the best one to tear.
MMMD 1: Wide receivers injured
Bronco Emmanuel Sanders suffered a late game left AC joint sprain. Although a separated shoulder is painful, he should not miss any games with a well timed bye next week. This is a similar injury to the one Randall Cobb has played through.
Sammy Watkins did not re-injure his right calf but did incur a significant left low ankle sprain. Fans got a big scare when the Bills WR was shown on TV to be immediately on crutches but X-rays were negative. Watkins does not have a good side to rely on as both are injured. This could lead to some missed time but since this is not a high ankle sprain, I am not anticipating a prolonged absence.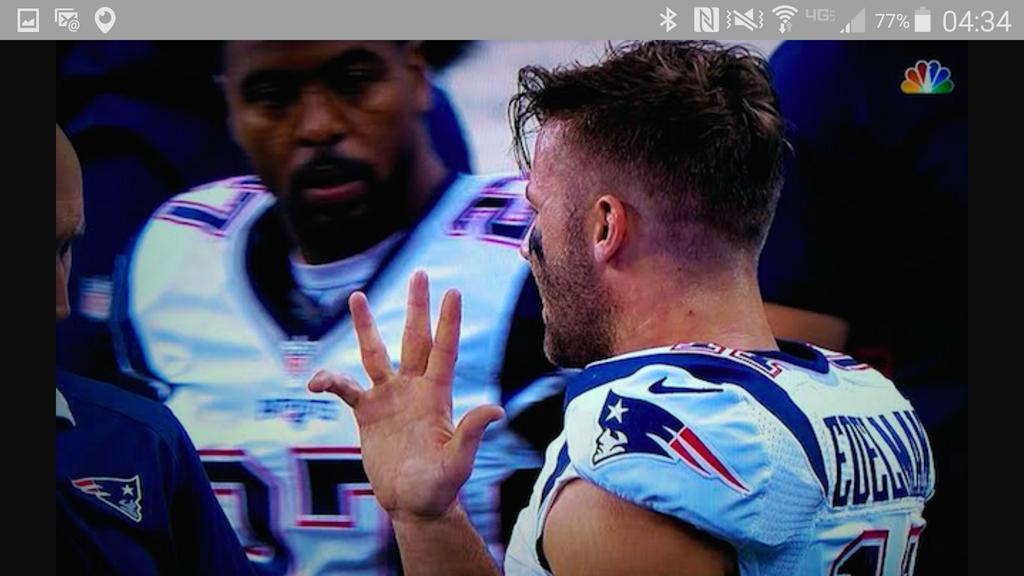 Julian Edelman's finger was the talk of Sunday night football, but I believe this is a case where pictures can lie. The Patriots wide out did not even injury his pinky finger. He was shown holding up his hand and this led many to be believe his 5th finger was dislocated or fractured. The reality is it was a sprain to the 4th finger, which he later taped while freely bending his 5th finger to get it out of the way. If there were a fracture, the finger would have been buddy taped or splinted. This is not to say a 4th PIP sprain could not cause pain and lead Edelman to drop or bobble passes.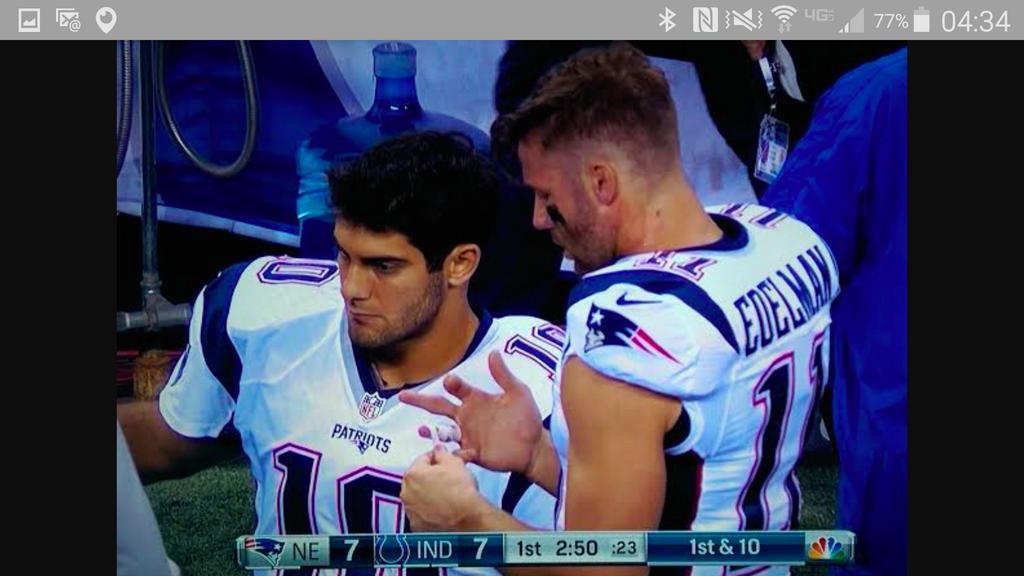 Keenan Allen left for the locker room with a hip injury. He returned to play briefly before leaving the game for good. His status has yet to be announced.
Allen Robinson was announced to have a leg contusion. The day after evaluation will be key here. The Jaguars WR can be considered lucky as the Lonnie Ballentine, the Texans player he collided with is likely out for the season.
MMMD 2: Michael Vick with dirt in eye…again
In 2011, Vick, then with the Eagles, was described by Fox game analyst Brian Billick as being held up "like a punch drunk boxer". The QB returned to the game and was reported to only have "dirt in his eye". Sunday, Vick was sent off by the referee for concussion evaluation and returned after the Steelers reported "dirt in his eye". I am only noting history repeating itself and not saying that either the Eagles or Steelers were being untruthful.
Referees have had the ability for years to remove a player from the game for head injury. There is a new medical timeout rule where the ATC spotter can call for a player's removal as well. Game officials have been told to be proactive and not wait or rely on the "eye in the sky" to call down. Vick being sent off was a good application of the protocol.
MMMD 3: Giants players lead the league in number of surgeries
There are no official surgical numbers compiled by the NFL. If there were, the Giants would unfortunately be in first place. The team has lost two players to non-football injuries and both have required half a dozen surgeries each.
Daniel Fells contracted MRSA (resistant infection) and has needed six surgeries, thus landing on IR. Jason Pierre-Paul has had a similar number of procedures after his fireworks injury. JPP is due to check in with the Giants again this week to assess his progress and potential return.
MMMD 4: Tainted water and supplements
This week we heard how tainted water may have cost a player his career. Supplement contamination has been often cited, including recently when future Hall of Famer Antonio Gates was suspended for four games.
There has been a change in the way supplements are okayed. It used to be the player would bring the bottle to the team trainer or physician. Under current rules, the team is no longer involved. Nowadays, the player is to call an 800 number or consult directly with the NFL Players Association. The clubs themselves are no longer involved in advising players on which supplements are safe.
MMMD 5: Stem cell and PRP are not magic
As Dez Bryant recently used stem cells and is getting close to a return, let me reiterate that biological healing has to occur over multiple weeks and there are few shortcuts.
I used stem cells and PRP in the NFL and currently in my private practice but it is not magical or immediate. Two weeks ago, I indicated that because Kiko Alonso, Breshad Perriman and Victor Cruz utilized these newer methods, that was an indicator that all three are a ways away. To date, none has returned to practice or play. Hopefully that will change soon, but remember, there are no magic potions for health.
MMMD 6: Concussions treatable?
Independent concussion clinicians and researchers came together at a medical conference to unanimously state "concussion is a treatable injury". Treatments have yet to be specified but rest may not be the best.
Our concussion knowledge is still in its infancy. There is still much more that we don't know, than what we do know about concussions. We will look back in 10 years and chuckle at how primitive we are today, just like we look back to see how antiquated things were in the concussion world in 2005.
We ended last week with and overall 2015 record of 51-3. Many of the injury predictions are still outstanding but here is what we know.
Neither Alonso, Perriman nor Cruz have returned yet after stem cell/PRP treatment and I will only count that as one correct assessment. Andrew Luck did return to play with his shoulder subluxation and throw for 312 yards and 3 TDs. Blake Bortles played with his AC separation on his throwing shoulder. Steve Smith, Sr. did return after a one week absence for transverse process fractures to catch seven passes for 137 yards and a touchdown. Chris Long was confirmed to have a knee hyperextension without ligament tear. Unfortunately, Justin Tuck did tear his pectoral tendon and needs surgery.
This week, Emannuel Sanders has been already confirmed to have an AC joint injury. Shane Ray did indeed have only MCL and will miss 4-6 weeks. Chris Thompson returned to play after a bad fall and a history of spine fracture. Julian Edelman did not fracture or dislocate his 5th finger.
Other injury predictions are pending confirmation but I will count Ty Montgomery as incorrect even though I still believe he has a knee component to his announced ankle injury. MCL and high ankle are often paired injuries.
Michigan State's Jalen Watts-Jackson correct assessment will not count as it is not a NFL injury. He indeed dislocated his hip but it was on the tackle, not on the ensuing celebration as was reported.
This leaves us with a 61-4 record. Overall, this is respectable total, unless you are a Packers fan. Two of my four misses are on Green Bay wide receivers (Jordy Nelson and Ty Montgomery).
Dr. David Chao is a former NFL head team physician with 17 years of sideline, locker and training room experience. He currently has a successful orthopedic/sports medicine practice in San Diego.