August 31, 2015 -
Dr. David Chao
Monday Morning MD: More preseason injuries or not?
Season-ending injuries have spurred more discussion of limiting preseason games. Are there really more preseason injuries? It certainly feels that way, but that may be the illusion created by increased media coverage of injuries. Nowadays, an ACL tear to the 3
rd
stringer that won't make the team still makes news. The NFL and the NFLPA rarely agree, but they both say there is
nothing new or unusual
and state injuries are not up overall. The aggregate numbers may not be statistically increased but I do believe there is a worrisome trend. Last week I indicated the
highest number of preseason ACL tears
in the last decade was 27 in 2013. We are now at 25 with a week of preseason to go. A detailed look may explain our feeling of more injuries as more starters are injured in the era of the current collective bargaining agreement (CBA). By my count, the ten years prior (2001-2010) there was an average of
6.2 starters league-wide on injured reserve
(Football Outsiders)
at the start of the season. Since the new CBA (2011-2014), there were 10 starters per year who began Week 1 on IR. Of course, IR numbers are not in for this year, but with Raiders starting right tackle Menelik Watson's Achilles rupture last night, it looks to surely exceed the average of 10. This represents a greater than 50% increase in starters being injured in the era of the current CBA. I always have said that one season-ending injury to a key star and the feel is that of a "bad" injury year. Meanwhile, multiple injuries to those outside the projected 53 and the feel is that of a "healthy" preseason. By counting injured starters, I think we can account for our collective feeling of more injuries. How do we prevent more starters being injured? Eliminating preseason games would be a knee-jerk reaction. First, most starters play sparingly in the preseason and that trend has not changed. Second, the vast majority of season ending injuries like ACLs, occur in practice. Jordy Nelson was a high profile exception, but Kelvin Benjamin, Orlando Scandrick, Dante Fowler, Jr,, and others all tore their ACL during practice. The current CBA mandates less practice time, eliminates two-a-days and reduces the amount of player contact. Why would preseason/practice ACL injuries increase (or even stay the same) when they should go down due to the new protections started in 2011? The leading two season-ending injuries are ACL and Achilles tears and both predominately occur without contact. Limiting contact/padded practices doesn't change the rate of these tears. The current practice rules may also have unintended consequences. Some say there is too much rest and players are not in shape. I don't buy that as we don't see an early season injury spike and a later season drop in ACL tears as players "get into shape". My theory is that limited practice time and contact has created the
new mantra of tempo
. There is a league-wide focus on practice speed/intensity, using multiple fields and maximizing plays with game urgency. Walk thru practice is now a run thru event. Another unintended consequence of limiting practice time is the starters will get their reps, but the third stringers get cheated with limited time. Ask veterans if camp is any easier for them now. My informal survey says "no". These factors may contribute to the 61% increase in starters on IR for Week 1. The NFL and NFLPA may be right that total preseason injuries are not up; however, the data seems to show there are more starters injured. Next week, I plan to discuss "sports science" and how analytics can or can't help prevent injuries. MMMD 1: Unusual happenings in Washington In almost two decades working in the NFL, I don't recall not being on the same page with the head coach. I am not aware of conflicting information between a doctor and coach with other teams either, at least not publically. In Washington, we have our third public misunderstanding in the last three seasons involving the same player. I am not inside Washington's team walls and I make no judgments as to fault. I have not spoken to anyone involved, nor am I an investigative reporter. I am not making any criticism of their medical care. As a former NFL team physician, I simply make the observation that this mixed messaging is not something typically seen. Late in the 2012 season, a
team doctor publically disputed
head coach's assertion that Robert Griffin III was cleared to go back in after a knee injury. At the beginning of 2013 season, the same head coach referenced a doctor's concerns on RG3's knee but the
doctor publically denied
that he had any. Now, we have a different head coach and a different doctor at odds on
whether RG3 was cleared to play
from concussion. This time Washington put out a public statement from the independent neurological doctor that contradicted the coach saying RG3 was cleared. Perhaps this repeated doctor/coach misunderstanding is indicative of a larger team dysfunction as I
wrote about previously
. A report now surfaced about the
Redskins brass being at odds
over the RG3 era ending. MMMD 2: All 1,184 players released this week need to be healthy 480 players will be
cut by Tuesday
and an additional 704 players by Saturday. All players need to be healthy to be released. A team can't cut an injured player. If unable to play football, injured reserve classification is used or injury settlements much be reached. If a team cuts an injured player, he is entitled to file an injury grievance. Five players who are released can be signed back to the practice squad. This is why I always said my goal as head team physician was to get everyone healthy, from the star player to the 90
th
player on the roster. I used to tell management I didn't want to know if a player was about to be cut, my job was to get players healthy either way. MMMD 3: Three things that don't surprise me. Having the fortune of being a medical insider, these three things may come as a surprise to some but not to me. [caption id="" align="alignright" width="272"]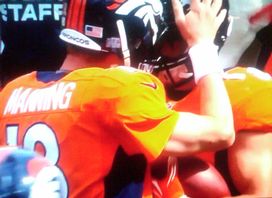 Manning's triceps[/caption] Peyton Manning's 
fingertips being numb
 is not surprising to me. Feeling is affected before muscles get weak. His
triceps atrophy/weakness
has been well documented. With his triceps affected, I would expect good feeling in the thumb and index finger but loss of feeling in the long and possibly ring/pinkie fingers. Todd Gurley was only recently
cleared to practice fully
, but still is not likely a Week 1 starter. I don't doubt his health or ability, but it is enough to ask any player to return the following season to his same level after ACL surgery. However, Gurley is being
asked to do two things
: return from surgery and play at a higher NFL level. Geno Smith throwing at practice nine days from surgery is not surprising. As soon it was discovered that his jaw was not wired shut, I felt he would
beat the initial 6-10 week
recovery timeline. His practicing in a red jersey is a good medical sign. Of course, there may be other reasons he doesn't play Week 1. MMMD 4: Russell Wilson's nanobubbles debunked The Seahawks quarterback is an investor in special water and claimed the nanobubbles helped prevent a recent concussion. There is
no scientific evidence
to support that claim. There is more we don't know about concussion than what we do know. We do not know of any true preventative measures that work, other than avoid the blows to the head. MMMD 5: Why narcotic pain meds are needed For decades, sports team physicians from the Olympics to the NFL have routinely travelled with a limited quantity of pain medication. After all, if you could get your doctor to make a house call, do you want him/her to show up with medication or empty-handed. The Drug Enforcement Agency has made it clear over the last several years that travelling with even a single pill not already prescribed may be medically indicated but is not proper per federal laws. Pain medicine is needed in the NFL for humanitarian reasons, not just playing to pain. Patriots' fullback James Develin broke his tibia in Charlotte and stayed behind for immediate surgery. If he had access to pain medicine, would he have been able to fly home with the team in a splint instead of being left behind and hospitalized? He certainly deserved immediate pain medication at the stadium, which his team doctors are no longer able to have on hand. This season, the league is instituting a visiting team medical liason (VTML). In the past the host team physician would assist the visitors. The VTML may be able to assist in obtaining medications, but my guess is the home team orthopedic surgeon still helped the visiting Patriots out with the tibial rodding surgery. Team doctors do not have privileges to perform surgery or admit players to the hospital outside their home state. [caption id="" align="alignright" width="396"]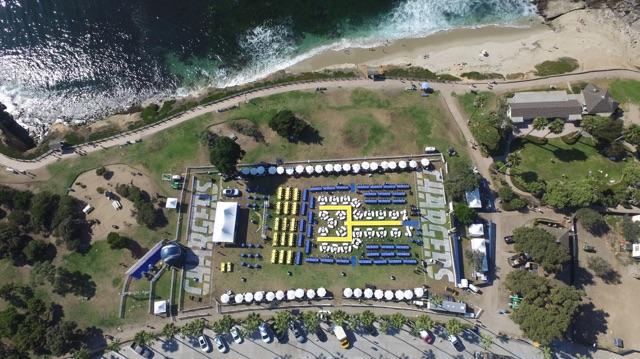 Taste at the Cove[/caption] MMMD 6: Taste at the Cove thank you One of my passions is helping kids without access to medical care, obtain the care they need. 14 years ago we started the
San Diego Sports Medicine Foundation
 and it has provided over $1.5 million in free surgeries and medical care. Our
annual fundraiser
 was held this past Thursday. Thanks to all who attended or bid online. Special thanks to honoree LaDainian Tomlinson and emcee Nick Hardwick as well as the countless teammates who came out to support. Extra thanks to Hall of Famers Marshall Faulk and James Lofton for coming. [caption id="" align="alignleft" width="403"]

Some former teammates at Taste of the Cove[/caption] MMMD 7:
ProFootballDoc
 scorecard Last week, I had my first miss for 2015 resulting in a
17-1 overall record
. This week I tried to make amends to Packers fans as their other star wide receiver, Randall Cobb, was injured. The video indicated AC joint separation (shoulder sprain), which was
later confirmed
. I believe Cobb is likely to return to play for Week 1. This injury does not truly healing, but is a matter of controlling swelling and pain. Any elevation of the end of the clavicle stays up and never comes back down, but functionally is not an issue. Cowboys CB Orlando Scandrick was injured in practice but we were lucky enough to still have
injury video courtesy of local news
. Unfortunately, he did suffer an ACL and MCL tear from accidental contact from a teammate. Patriots FB James Develin had a rotational injury similar to UFC's Anderson Sliva and predictably suffered a
tibia fracture
that required surgery. An initial report indicated a "
clean break
" and hope of a 6-8 week return but I think it is much more likely a season-ending injury. When Giants safety Nat Berhe injured his calf a month ago, I tweeted the
opener was in doubt
as calf injuries tend to linger. Now the
entire season is in doubt
after calf surgery to remove a blood clot. I will count the above four as correct but I will hold off on counting the predictions of Arian Foster, Zach Ertz and Chris Hogan. Foster and Ertz had similar surgeries and Foster is following my prediction of quicker than indicated return and is doing modified running. Ertz original target of Week 1 was optimistic and it now looks like he will miss the opener. Chris Hogan's injury is pegged at 2-4 weeks and consistent with PCL but I have yet to hear the specific diagnosis, so that can't be counted. I never saw any video on Leonard Williams and Bryan Bulaga video was very limited so I took a pass on these two. That leaves the record at 21-1 so far for 2015.
Follow David on Twitter:
@
profootballdoc
Dr. David Chao is a former NFL head team physician with 17 years of sideline, locker and training room experience. He currently has a successful orthopedic/sports medicine practice in San Diego.