Back from my duties at the NFL Scouting Combine in Indianapolis, we return our attention to spring football in the college ranks. On Wednesday, Purdue opens practice in preparation for the 2011 season following a year in which Danny Hope's squad was decimated by injuries, as the team's starters at quarterback and running back, as well as its best wide receiver, were lost for the season.
Let's take a look at some of the key storylines for Purdue entering spring camp.
Purdue (4-8, 2-6 Big Ten)
The quarterback situation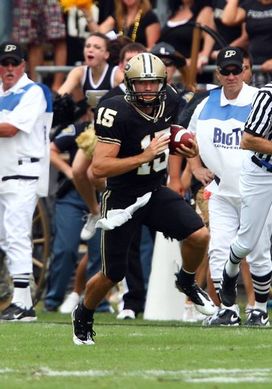 ICONRob Henry's run skills gave the Purdue offense a different dimension last season.
With Robert Marve still rehabbing his knee following a second ACL surgery, the former Miami signal-caller will be limited to seven-on-seven drills this spring. But even when Marve returns to full health, offensive coordinator Gary Nord plans on Rob Henry being atop the depth chart for the foreseeable future. The rising sophomore started six games last season and showed promise as an elusive runner before suffering a hand injury, which is not quite 100 percent but will not limit him this spring. The 6-2, 198-pounder won his first two career starts, including an upset win at Northwestern, and finished the season as the team's rushing leader with 547 yards and four touchdowns. But through the air, Henry completed just 53.1 percent of his passes with eight touchdowns against seven interceptions. He was also prone to escaping the pocket when his initial read wasn't there, relying on his running skills a little too often.
Marve, who started the first four games last season, could ultimately work his way back into the mix because he is a talented signal-caller, but the coaching staff can't count on him because of his injury history. Meanwhile, Sean Robinson and Caleb TerBush will battle for No. 2 reps. Robinson saw action after Henry hurt his hand while TerBush has impressed in practice but appeared in only one career game (in 2009) because of academic issues last season.
The rushing attack
Purdue loses both Dan Dierking and Keith Carlos from the backfield, but the hope is that Ralph Bolden will be able to carry the load at running back after coming off of ACL surgery. Bolden was supposed to be one of the main ball carriers last season before his injury left the Boilers in a bind. Dierking ended up rushing for over 500 yards after being a non-factor his first three seasons, and Al-Terek McBurse missed two games with a toe injury before sliding down the depth chart. The staff planned to move McBurse to receiver but Hope told The (Lafayette) Journal and Courier that he isn't expected to return to the team for the 2011 season.
Getting the expected production from a healthy Bolden will be huge for the Boilermakers. The 5-9, 194-pounder logged 935 yards and nine scores on the ground in 2009 and was adept at catching the ball out of the backfield, as well. If Henry remains atop the depth chart at quarterback, having an experienced rusher to take pressure off of the young signal-caller will be huge for this offense. The offensive line played beyond expectations, especially considering that Purdue finished fifth in the league in rushing despite dealing with so many injuries.
Can the defense continue to improve?
The knock on the Boilermakers for so many years has been that their defense has not been able to help out the offense enough to make the team a consistent upper-echelon Big Ten squad. But this unit seems to be improving, and a secondary that featured four new starters played well in 2010. Cornerback Ricardo Allen is a rising sophomore who offenses must be aware of at all times, and the run defense was much improved. The unit played much more physical, and it led the conference in both sacks and tackles for loss. Purdue returns nine defensive starters, but Big Ten defensive player of the year Ryan Kerrigan will move onto the NFL. He was the biggest factor in the team's overall sacks and tackles for loss numbers. Who will emerge and help pick up the slack?
Will Keith Smith get a sixth year?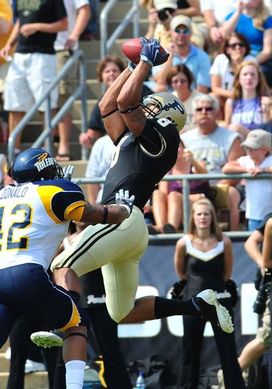 ICONWill receiver Keith Smith be returning to school for a sixth season?
There is still no word yet from the NCAA on whether wide receiver Keith Smith will get a sixth year of eligibility. The former All-Big Ten performer appeared in only two games last season before suffering an ACL/MCL tear in his right knee. Purdue submitted the paperwork in November but has yet to hear a decision from the governing body. The oddest part of this whole situation is that Smith is participating in the NFL Scouting Combine in Indianapolis while he continues to recover from his injury and await word from the NCAA. Smith can participate in combine activities and still retain his eligibility as long as he stays at the combine for no more than 48 hours. He also isn't allowed to keep any clothing or merchandise, and he isn't permitted to miss any classes to participate, either. If Smith is granted an extra year and he is close to 100 percent in the fall, he can really help the Boilermakers offense.
UPDATE: On Monday afternoon, the NCAA announced that it had denied Smith's request for a sixth year of eligibility.
Injury notes
In addition to Marve being limited (he'll throw individual routes with receivers) and Smith continuing to work his way back (if granted a sixth year), Bolden will only be allowed to run behind the line without anybody tackling him.
The following is a list of players also expected to be limited or not participate in spring practice because of injuries: defensive back Charlton Williams, defensive tackle Brandon Taylor, wide receiver T.J. Barbarette, offensive lineman Trevor Foy, safety Chris Quinn, linebacker Kakpindi Jamiru, kicker Jonathan Linkenheimer and defensive tackle Kevin Pamphile.
Purdue's spring game will take place on April 9.
Email dave.miller@nationalfootballpost.com or follow me on Twitter at Miller_Dave