As we get ready to turn the calendar to the month of October, the Heisman Trophy race is just starting to get interesting. And this week's slate features some marquee games that could have a major impact in the quest for the individual hardware.
Let's take a look at the leaders after five weeks of action.
Oregon QB Marcus Mariota: The veteran Ducks signal-caller was off last week, but Mark Helfrich's squad will take center stage on Thursday night when it hosts Arizona at Autzen Stadium. Remember the last time the Ducks faced Arizona? It was in late November of last season, when the Wildcats won 42-16 after the Ducks wasted a shot at the national title with a loss to Stanford. Mariota wasn't 100 percent healthy, and he ended up tossing two interceptions in the game — his first since November 17, 2012. Mariota, who has recorded 16 touchdowns on the season (13 through the air and three on the ground), has a marquee nonconference win over Michigan State under his belt, so all he needs to do is continue to stay healthy and he'll likely have a trip to New York booked.
2014: 71 of 96 passing for 1,135 yards, 13 TDs and 0 INTs; 33 rushes for 214 yards and 3 TDs.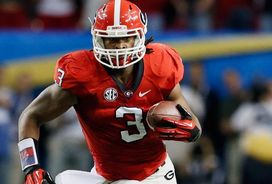 Todd Gurley is healthy and in "beast mode" this season for the 'Dawgs.
Georgia RB Todd Gurley: The bruising Bulldog recorded 208 yards and two touchdowns on 28 carries in Georgia's close win against Tennessee. He added 30 receiving yards and was a key factor late in helping the 'Dawgs burn clock to avoid an upset loss at home. Gurley is healthy and in "beast mode" this fall, and he had a signature performance in Week 1 against Clemson — three touchdowns on the ground and a kickoff return for a score. An invite to New York for the Heisman ceremony is possible if Georgia's play-calling doesn't get in the way and if he gets the carries.
2014: 69 rushes for 610 yards and 6 TDs; 9 receptions for 29 yards and 0 TDs; 1 kickoff-return TD.
Alabama WR Amari Cooper: The star wide receiver for the Crimson Tide enjoyed an off week this past Saturday, and Nick Saban's squad is now preparing for a big road test at Ole Miss with ESPN's College GameDay coming to town. Cooper, who continued his torrid start to the season by scoring three touchdowns against Florida the previous week and has 43 receptions for 655 yards and five touchdowns on the year, will face a nasty Rebels secondary this Saturday. It's tough for receivers to get Heisman recognition unless they are standout return men, but Tide OC Lane Kiffin is making sure that Cooper gets a ton of looks. And a former Heisman winner told me last week that Cooper is doing things as a receiver that you only see on Sundays, calling him "possibly the best player in the country."
2014: 43 catches for 655 yards and 5 TDs.
Nebraska RB Ameer Abdullah: The star Cornhuskers tailback rushed for 208 yards and three touchdowns in the team's 45-14 victory over Illinois one week after he ran for 229 yards in a 41-31 win over Miami (FL). He has rushed for more than 200 yards in three games this season, and a former Heisman winner told me last week that Abdullah should remain in this race as long as he stays healthy and the Huskers win because the offense in Lincoln runs through the star tailback.
2014: 114 rushes for 833 yards and 8 TDs; 5 receptions for 108 yards and 2 TDs.
Notre Dame QB Everett Golson: The dual-threat signal-caller struggled taking care of the football in the team's 31-15 win over Syracuse, but he actually managed to set a school record for consecutive completions and throw a career-high four touchdown passes against the Orange. Golson threw his first two interceptions of the season, fumbled deep in 'Cuse territory and botched a spike attempt late in the first half. But he was 32-of-39 passing for a career-best 362 yards and came one completion short of matching the FBS record for consecutive connections in a game (East Carolina's Dominique Davis in 2011). Even with the sloppy performance, it's been clear that his work in San Diego with quarterback instructor George Whitfield Jr. has dramatically improved his game. He will be in the mix as long as the Irish fare well against a brutal upcoming slate.
2014: 94 of 135 passing for 1,142 yards, 11 TDs and 2 INTs; 39 rushes for 104 yards and 4 TDs.
Others to watch
Texas A&M QB Kenny Hill (1,745 passing yards, 17 TDs and 2 INTs; 136 rushing yards and 0 TDs): The heir apparent to Johnny Manziel in College Station threw a fourth-quarter interception against Arkansas that could have helped prevent the Aggies from remaining undefeated. However, he was able to deliver two long touchdown passes in the final frame before connecting with Malcome Kennedy for a 25-yard score on the first play of overtime as A&M remained unscathed. He finished the game 21-of-41 passing for 386 yards and four touchdowns. Hill took advantage of some defensive breakdowns by the Hogs, so it will be interesting to see how he fares as he continues to work his way through the SEC slate.
BYU QB Taysom Hill (876 passing yards, 6 TDs and 3 INTs; 428 rushing yards and 7 TDs): The Cougars' dual-threat signal-caller enjoyed a bye last week and is preparing for a home game against Utah State on Friday night. Without their star QB, the Cougars would not be unbeaten.
Wisconsin RB Melvin Gordon (612 rushing yards and 8 TDs; 5 catches for 27 yards and 1 TD): The star Badger had 32 carries for 181 yards and two scores in the team's 27-10 win over South Florida last week. Wisconsin has a favorable schedule, but all eyes will be on Gordon's matchup with Abdullah and Nebraska in November.
East Carolina QB Shane Carden (1,469 passing yards, 11 TDs and 3 INTs; 19 rushing yards and 3 TDs): The prolific Pirates signal-caller is off to a strong senior season in coordinator Lincoln Riley's offense. He has some less-than-stellar numbers going against him — two interceptions in the team's lone loss to South Carolina and a below-50% completion rate against Virginia Tech. But ECU would not have had such a strong start without his play at the quarterback position. And big numbers could await this week with a home game against SMU.
Mississippi State QB Dak Prescott (964 passing yards, 11 TDs and 2 INTs; 378 rushing yards and 3 TDs): The Bulldogs' dual-threat signal-caller has three games with over 100 rushing yards and two games with four passing scores, and he was a key component of the team's recent upset victory at LSU. MSU hosts Texas A&M this week, so Prescott will have a chance to have another signature game in his quest to make it to New York.
UCLA QB Brett Hundley (1,041 passing yards, 7 TDs and 1 INT; 146 rushing yards and 2 TDs): The star Bruin returned from a left arm injury to post his best game of the season, throwing for 355 yards and four touchdowns on 18-of-23 passing, as UCLA stormed by Arizona State 62-27 in Tempe last Thursday night. That was the Hundley we expected to see entering the season atop many preseason Heisman Watch lists.
Baylor QB Bryce Petty (913 passing yards, 7 TDs and 1 INT; 79 rushing yards and 3 TDs): The Bears beat Iowa State this past week, and Petty threw for 336 yards and a touchdown while adding two more scores on the ground. He will have some high-profile Big 12 matchups to gain Heisman momentum.
Dave Miller, the college football editor for the National Football Post, is on Twitter @Miller_Dave.