There is an interesting difference of opinion that has surfaced regarding the Dallas Cowboys in the wake of the team's 20-17 upset loss to the Washington Redskins this past Monday night.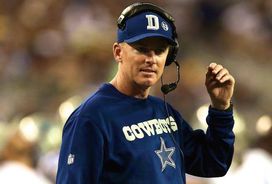 Will Garrett and the Cowboys bounce back from last week's upset loss?
On one side you have those who feel it was only a matter of time before the Cowboys' annual meltdown commenced. Monday night's performance strengthened this position as Jason Garrett's team appeared to overlook Colt McCoy and the Redskins and when the game was on the line in overtime, Dallas got away from what had been working so well both in that contest and throughout the course of the season by abandoning DeMarco Murray and the rushing attack for a throw-first approach.
On the other side of the argument, where this writer happens to stand, Monday night's loss, while disturbing, isn't enough to overlook what the Dallas Cowboys had produced in the seven weeks prior to the Washington game. The thought process here is that the Cowboys will learn from their mistakes, will get back to what works and will continue to push forward towards a spot in the postseason. As a result, we've dropped Dallas only two spots in our weekly power rankings.
However, a bad showing in Week 9 against a surging Arizona Cardinals team and we may need to rethink that position.
The numbers in brackets indicate each team's Power Ranking, which is based on a scale of 60-100. These numbers can be used as a baseline to determine the point spread between any two teams on the list. Keep in mind that these numbers do not account for home field advantage, situational analysis (extra rest, back-to-back road games, divisional rivalries, etc), injuries, weather or public perception. They are merely to be used as a baseline for your initial analysis.
NFP power rankings
1. Denver Broncos [92.0]
Record: 6-1 (Won 35-21 vs. San Diego)
Previous ranking: 92.0 (1)
2. Arizona Cardinals [90.5]
Record: 6-1 (Won 24-20 vs. Philadelphia)
Previous ranking: 89.0 (T5)
3. New England Patriots [90.0]
Record: 6-2 (Won 51-23 vs. Chicago)
Previous ranking: 87.5 (T9)
T4. Philadelphia Eagles [89.5]
Record: 5-2 (Lost 24-20 at Arizona)
Previous ranking: 89.5 (4)
T4. Dallas Cowboys [89.5]
Record: 6-2 (Lost 20-17 vs. Washington)
Previous ranking: 90.5 (2)
6. San Diego Chargers [89.0]
Record: 5-3 (Lost 35-21 at Denver)
Previous ranking: 89.0 (T5)
7. Indianapolis Colts [88.5]
Record: 5-3 (Lost 51-34 at Pittsburgh)
Previous ranking: 90.0 (3)
8. Seattle Seahawks [88.0]
Record: 4-3 (Won 13-9 at Carolina)
Previous ranking: 87.5 (T9)
T9. San Francisco 49ers [87.5]
Record: 4-3 (Bye)
Previous ranking: 87.0 (11)
T9. Green Bay Packers [87.5]
Record: 5-3 (Lost 44-23 at New Orleans)
Previous ranking: 88.5 (7)
11. Cincinnati Bengals [87.0]
Record: 4-2-1 (Won 27-24 vs. Baltimore)
Previous ranking: 86.0 (T12)
T12. Baltimore Ravens [86.5]
Record: 5-3 (Lost 27-24 at Cincinnati)
Previous ranking: 88.0 (8)
T12. Detroit Lions [86.5]
Record: 6-2 (Won 22-21 vs. Atlanta)
Previous ranking: 86.0 (T12)
14. Kansas City Chiefs [86.0]
Record: 4-3 (Won 34-7 vs. St. Louis)
Previous ranking: 85.5 (T14)
15. Miami Dolphins [85.5]
Record: 4-3 (Won 27-13 at Jacksonville)
Previous ranking: 85.0 (T16)
T16. New Orleans Saints [85.0]
Record: 3-4 (Won 44-23 vs. Green Bay)
Previous ranking: 83.5 (T19)
T16. Pittsburgh Steelers [85.0]
Record: 5-3 (Won 51-34 vs. Indianapolis)
Previous ranking: 84.0 (18)
T18. Houston Texans [84.0]
Record: 4-4 (Won 30-16 at Tennessee)
Previous ranking: 83.0 (T21)
T18. Buffalo Bills [84.0]
Record: 5-3 (Won 43-23 at NY Jets)
Previous ranking: 83.0 (T21)
T20. Carolina Panthers [83.5]
Record: 3-4-1 (Lost 13-9 vs. Seattle)
Previous ranking: 85.5 (T14)
T20. New York Giants [83.5]
Record: 3-4 (Bye)
Previous ranking: 83.5 (T19)
T22. Chicago Bears [83.0]
Record: 3-5 (Lost 51-23 at New England)
Previous ranking: 85.0 (T16)
T22. Cleveland Browns [83.0]
Record: 4-3 (Won 23-13 vs. Oakland)
Previous ranking: 81.0 (26)
24. Washington Redskins [82.5]
Record: 3-5 (Won 20-17 at Dallas)
Previous ranking: 81.5 (25)
25. Minnesota Vikings [81.5]
Record: 3-5 (Won 19-13 at Tampa Bay)
Previous ranking: 80.5 (T27)
26. Atlanta Falcons [81.0]
Record: 2-6 (Lost 22-21 vs. Detroit)
Previous ranking: 82.0 (24)
27. St. Louis Rams [80.5]
Record: 2-5 (Lost 34-7 at Kansas City)
Previous ranking: 82.5 (23)
28. Tennessee Titans [80.0]
Record: 2-6 (Lost 30-16 vs. Houston)
Previous ranking: 80.0 (29)
29. New York Jets [79.0]
Record: 1-7 (Lost 43-23 vs. Buffalo)
Previous ranking: 80.5 (T27)
T30. Jacksonville Jaguars [78.5]
Record: 1-7 (Lost 27-13 vs. Miami)
Previous ranking: 78.5 (31)
T30. Tampa Bay Buccaneers [78.5]
Record: 1-6 (Lost 19-13 vs. Minnesota)
Previous ranking: 79.0 (30)
32. Oakland Raiders [78.0]
Record: 0-7 (Lost 23-13 at Cleveland)
Previous ranking: 78.0 (32)
Hit me up on Twitter: @JoeFortenbaugh