College football fans should be in for quite a show over the next two days, as the College Football Playoff has ushered in the era of the 'New Year's Six,' a package of bowl games spread over New Year's Eve and New Year's Day, including a pair of semifinal games that will determine who plays for the very first CFP national championship.
<p> Before we settle in and get set for the Rose Bowl and Sugar Bowl games featuring Oregon-Florida State and Alabama-Ohio State, respectively, three contests take center stage on the final day of 2014.
So let's break down the trio of marquee games…
Peach Bowl (Atlanta): TCU (11-1) vs. Ole Miss (9-3) 12:30 pm ET on ESPN
The Horned Frogs, favored by 3.5 points, will be playing in the Peach Tree State for the first time since 1988, when they played Georgia. Gary Patterson's squad, which did not make the College Football Playoff despite entering the final weekend of the regular season at No. 3 in the CFP rankings, is trying to earn its third victory against a Top 10 team this year. Meanwhile, the Rebels defeated Mississippi State to close out the regular season and snap a three-game losing streak that knocked them out of playoff consideration despite a breakthrough season in which they defeated conference power Alabama. Ole Miss has won five of six meetings between the teams in the series.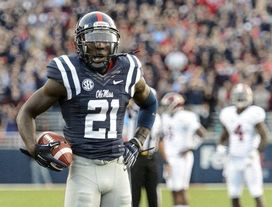 Senquez Golson ranks second in the nation with nine interceptions.
Can Horned Frogs dual-threat quarterback Trevone Boykin play a clean game in the Georgia Dome against an Ole Miss defense that leads the nation in giving up just 13.8 points per game? Boykin had one of the most exceptional years at the QB position, finishing fourth in the Heisman Trophy voting as he was the face of a team that scored 46.8 points per game. He has big-play ability with his arm and his legs, but cornerback Senquez Golson ranks second in the nation with nine interceptions, and the Bronko Nagurski Trophy finalist was the one who pulled in the interception in the end zone to help give the Rebels their win over the Crimson Tide. But how much can Ole Miss rely on its defense? Quarterback Bo Wallace must play a clean game as he relies on tight end Evan Engram, running back Jaylen Walton and the rest of his playmakers (without star Laquon Treadwell, of course) to find openings against linebacker Paul Dawson and the stout TCU defense.
Fiesta Bowl (Glendale): Arizona (10-3) vs. Boise State (11-2) 4:00 pm ET on ESPN
The Wildcats, favored by 7 points, have notched 10 wins for the second time in program history and are looking to put behind their loss to Oregon in the Pac-12 title game and claim a top-tier bowl win for the first time since beating Miami (FL) in the 1994 Fiesta Bowl. Rich Rodriguez's offense is led by quarterback Anu Solomon, who put together a fantastic redshirt freshman campaign after winning a preseason position battle for the starting gig. He threw for 3,458 yards and 27 touchdowns against just seven interceptions this fall. The 'Cats are also paced by freshman running back Nick Wilson, who rushed for 1,289 yards and 15 touchdowns while helping make fans forget about All-American Ka'Deem Carey. Defensively, linebacker Scooby Wright was a beast all season and will continue to garner Heisman Trophy consideration heading into next season. He claimed All-America honors as well as national awards and will try to make things difficult for the Boise State offense after recording 153 tackles, including 27 behind the line of scrimmage.
That Broncos offense features running back Jay Ajayi, who will be playing his final game with the team before entering the 2015 NFL Draft. He is tied for the national lead in scoring at 13.4 points per game, has accounted for 2,225 all-purpose yards and 29 scores, and is the centerpiece of a unit that also features quarterback Grant Hedrick, who led the nation by completing 70 percent of his passes. However, he also tossed 13 interceptions and will try to keep the Broncos' offense balanced and turnover-free. Boise State, which has 17 straight winning seasons and is in an upper-tier bowl game in the first season under new head coach Bryan Harsin, has five defensive scores on the year.
Orange Bowl (Miami): Georgia Tech (10-3) vs. Mississippi State (10-2) 8:00 pm ET on ESPN
The Yellow Jackets are looking to finish off a standout season in the AP Top 10, which is quite the accomplishment considering that many college football observers thought that head coach Paul Johnson could be out the door at the end of the 2014 campaign. GT enters Sun Life Stadium with a quarterback that has the ability to move the ball through the air as well as with his legs, which makes the triple-option offense even more dangerous. Quarterback Justin Thomas has paced the strong offensive attack along with running backs Zach Laskey and Synjyn Days, who recorded three touchdowns in the ACC championship game against Florida State. Bulldogs defensive end Preston Smith and the rest of the defense will have to play a sound game if it wants to thwart the GT offensive attack.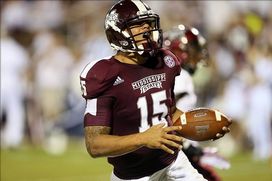 Dak Prescott threw for 24 touchdowns and ran for 13 more scores this fall.
Meanwhile, Dan Mullen's squad was once No. 1 in the country, but the tough SEC West gauntlet ultimately prevented the Bulldogs from being a part of the inaugural College Football Playoff. But the Bulldogs remain a tough out because of a Benardrick McKinney-led defense and dual-threat signal-caller Dak Prescott, who was a major player in the Heisman Trophy race for the majority of the year. He threw for 24 touchdowns and ran for 13 more scores, but he struggled a bit with accuracy and seemed to tire down the stretch. He gets help offensively from running back Josh Robinson, who may be the nation's most underrated premiere back. Both Prescott and Robinson will try to find running room against Yellow Jackets linebackers Paul Davis and Quayshawn Nealy.
Dave Miller, the college football editor for the National Football Post, is on Twitter @Miller_Dave.